I realized after searching through my posts that I had never gotten around to posting my impressions of the Rolex GMT-IIc diver! I have had this diver for a year or two now and I really like it. Rolex has grown on me as a brand, especially with their releases in the last couple of years. I'm not going to go into a full review of the watch, since there are so many competent reviews out there already, but I will post about my impressions. Unfortunately I only took three photos of the watch before I put it into safety deposit so I can't take any more until I grab it out again!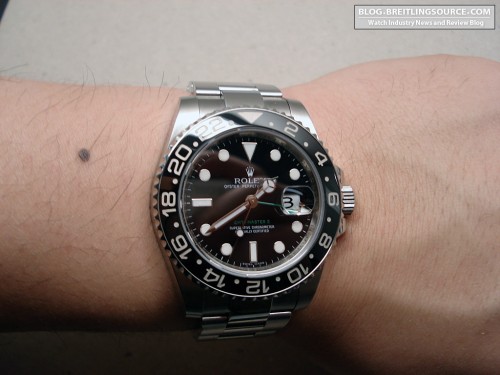 We'll start with the wrist shot. The watch is perfect sized for my 6 3/4″ wrist, and still manages to look bigger than previous versions while maintaining its 40mm diameter. Rolex accomplishes this by widening the lugs to give the watch a chunkier appearance. I really like what Rolex did when they redesigned these diver cases – to me the previous ones were just a touch too small. Now they are perfect. The new green GMT also sets off the dial perfectly.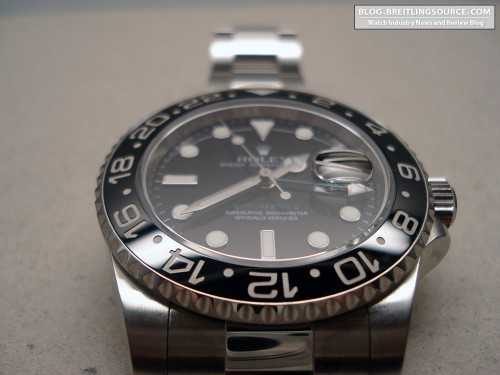 You can see the new Ceramic bezel in the close up above quite well. The GMT numbers are cut out of the polished surface of the ceramic and have a sort of blasted rough finish on the inside, which is a very nice contrast. Props to Rolex for making such a beautiful ceramic bezel. Of course the typical authenticity security features such as the etched crown in the sapphire crystal, rolexrolexrolex wording around the chapter ring and serial located in the chapter ring all exist on this model.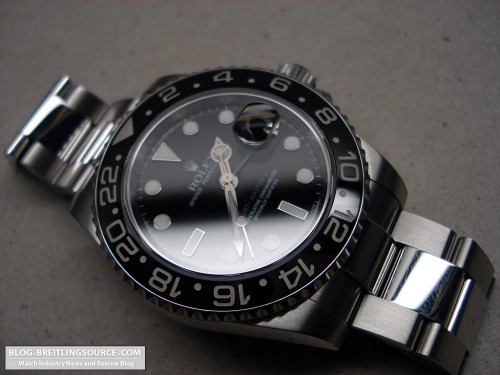 The GMT Bezel is a bidirectional bezel, like most GMT bezels out there. The movement in the GMT Master IIc is the Rolex Caliber 3186, which has been upgraded from the previous Caliber 3185 by adding a Parachrom-Blu Hairspring.
Some other improvements int he GMT II Ceramic are the new machined clasp and solid oyster bracelet as well as the maxi-dial. I'm glad they finally included all of these features on one watch, which is why I bought the GMTIIc. One of my criticisms of Rolex has always been their differences from high end to lower end models like the Maxi Dial and Date "complication". Addition of a date wheel for a thousand dollars seems quite excessive. But whatever they are doing it is working, because they are still THE brand, when one talks about luxury wristwatches.