Recently, I bought both the SuperOcean Heritage 46 and 38 watches for my Fiance and myself as wedding gifts. We are getting married on July 11, 2009, and wanted to have a couple of Breitlings to commemorate the occasion. Since Much of my recent life has revolved around watches and Breitling more specifically, we felt matching Breitling watches were the way to go.
So I set about finding an AD that offered a good price for the purchase, which I did. The SuperOcean Heritage 46 in Black is a very popular watch, and the wait time on that watch is approximately 6 weeks, which is what it finally took for the watch to arrive. But it sure was worth the wait!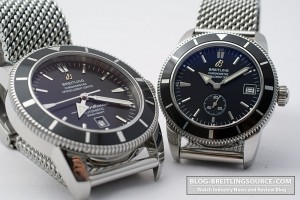 They are truly stunning watches, with a very business-black dial and presence on the wrist. Case and bracelet craftmanship is of the typical high Breitling quality. The Specs are as follows:
SuperOcean Heritage 46
Diameter: 46mm
Movement: Breitling Caliber 17
Water Resistance: 200m
More Info Link
SuperOcean Heritage 38
Diameter: 38mm
Movement: Breitling Caliber 37
Water Resistance: 200m
More Info Link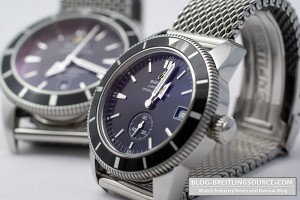 The SuperOcean Heritage 38 is a bit small for me, but to be quite honest, I think that is more than big enough for many wrists. It is slightly small by today's standards, and while a men's watch, we decided that it would be a good watch for my fiance as it would match very well with mine. It is a bit large on her wrist, but looks quite nice still.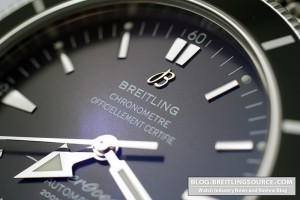 Here is a nice close up of the dial detail. You will notice that one of the Lume Dots is slightly off-centre. It isn't noticeable to the naked eye really, but under a loupe or zoom up in a good macro shot its easy to see. Otherwise the dial is immaculate. You can see the slight bluish hue that comes from the double Anti-reflective coating on the Sapphire Crystal.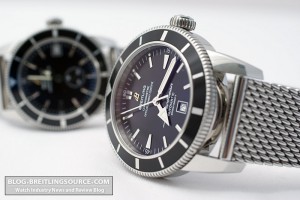 A nice Bokeh shot with the SOH 46 in the foreground. I think these photographs turned out quite nice, with a slight bit of overexposure. The mesh bracelet is very cool, and fits VERY comfortably on the wrist. It is the most comfortable bracelet that Breitling has made, in my opinion. While the style of the mesh might take a while to really appreciate, the comfort is noticeable immediately.
Bezel clicks very solidly and reeks of quality, as does the crown movement and case machining. Given the price of these watches, I do appreciate them better than the price I would have had to pay for matching Rolex Datejust watches. I probably paid just over half of what a matching pair of all-steel Datejust watches would have costed, and the mens watch would only be 36mm. However, the woman's datejust does look better for women, I believe.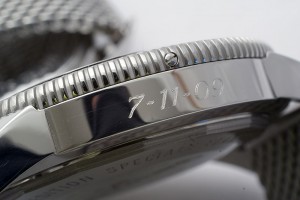 Here is a shot of the engraving done on the side of the watch. additionally we had our names engraved on the back in an arch, which turned out quite nicely as well. The case-side engraving was a really cool touch, and feels a bit more permanent than the engraving on the caseback, which is something that we liked about it.