Mon 20 Aug 2012
I must have owned over a dozen Pilot watches over the years, but this Glycine KMU 48 is only the second PVD pilot I've had. The first was a affordable Ticino Pilot watch which ultimately did not fit the bill for me. This Glycine comes closer, but in the end, I just don't wear my pilot watches as much as I like to buy them.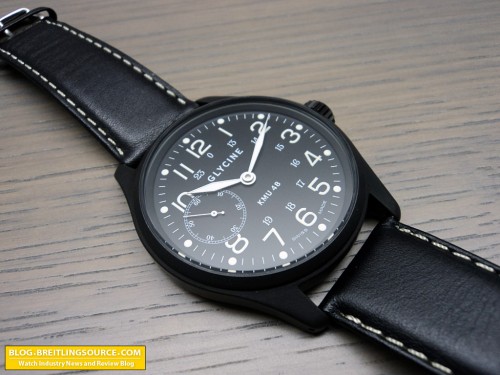 The Glycine KMU 48 is a LARGE imposing, saucer-on-the-wrist kind of watch. The 48mm diameter and healthy lugs made it simply too big for my wrist, which is the real reason that I never really ended up wearing this watch. I picked it up in a multi-watch trade because it looked interesting to me, but ended up having to sell it. I think it would be better on a 7.5″+ wrist, and I generally wear large watches very comfortable like the Breitling for Bentley Motors watches.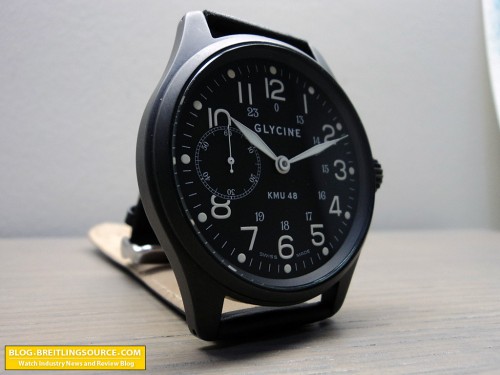 The watch has a simplistic appeal to it, like many Glycines do. It is also one of those little know, but well know enough brands that many who do not like mainstream brands often gravitate to. And for those reasons, Glycine has become a popular cult brand for Swiss Watch afficionados. The watch wears quite thin, especially for its radial diameter, and features 24mm lugs, which allows it to wear Panerai straps of which I have many.
The lume is limited and is only present on the little dots around the dial and on the hands. The PVD coating is done pretty well, and the lugs have holes drilled on the outside.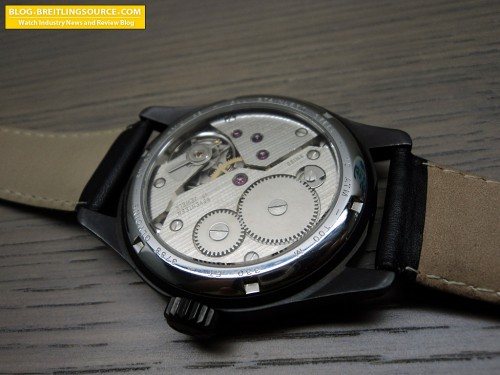 The movement featured in this watch is the ETA Unitas 6497. It only has one decoration, which is a laser etched "GLYCINE" on the bridge, it is so light its hard to see it in the photograph, but appears on the bridge that has the 3 visible jewels. The finish is pretty much basic raw "hammer-peened" bridges. For the price I paid for it, its a pretty cool piece, but I recently let it go to a fellow who appreciated it more than me. Hope you guys enjoyed the write up!