Breitling has introduced its legendary aviation teams to China. Both the Breitling Jet Team and the Breitling Wingwalkers took part in the 9th China International Aviation & Aerospace Exhibition (Airshow China 2012). Breitling is the official timekeeper of the event of which this year's edition was held in Zhuhai, Guangdong, from November 13th to 18th. The breathtaking performances of the teams at the Airshow were one of the highlights of the "Breitling Dragon Tour".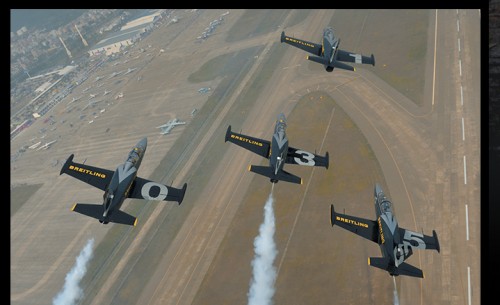 The highly experienced pilots of the Breitling Jet Team flew seven L-39C Albatros jets in formation less than 3 m (10 ft) apart and at speeds of up to 700 km/h (435 mph), performing impressive sequences of synchronized rolls, loops, and crossovers. This dazzling show vividly reflected the precision, speed and courage of these ultimate professionals.
Offering a contrasting display, the Breitling Wingwalkers performed an elegant and unique routine for the Chinese crowds below. Standing on top of the two open cockpit Stearman biplanes, the girls endured speeds of up to 240 km/h (150 mph) and forces up to 4G during their 20-minute performance.
"It has been our dream to bring the Breitling teams to China, so that the Chinese people can experience firsthand the longstanding relationship between Breitling and aviation. Today, I feel very proud to see this dream come true", said David Reid, President of Breitling Greater China.