Tue 21 Sep 2010
Another one of my guilty pleasure watch brands is ECW, short for European Company Watch. The name is kind of corny (and also happens to be the same as a second tier wrestling company), and doesn't exude class like brands that are named after an obscure European horological figure. But if IWC can do it, why not ECW?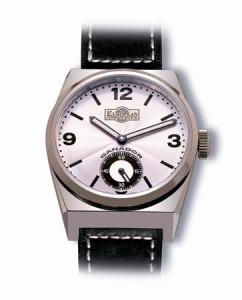 With the problems with the name and logo aside, the watches they craft are pretty snazzy. The company is owned by Franck Muller Watchland who also owned Pierre Kunz and Martin Braun among others. The ECW website was taken offline in 2008, but I could not find any information on the company and whether it is still around.
I picked up an ECW Panhard F10 a while back, which I have been sneaking pics of on my twitter. Its what I'm wearing today, and I have to say that while the movement is a base Tri-Compax Valjoux 7753, its eminently satisfying to wear. The solid machined front-loading cases are beautifully crafted. I will be reviewing the watch soon, but for now, I may have to try and get another ECW into my collection!