Sun 13 Apr 2014
I was always a fan of the extra large 48mm Alpina Avalanche Extreme watch, and when I tried one on for the first I was very disappointed to find out that it looked ridiculous on my wrist and just didn't sit right on it. The rubber strap mounted on the fixed lugs just didn't conform to my wrist. So when I had a chance to snap up this 42mm Avalanche Extreme Automatic, I jumped on it, hoping that I had found a happy medium. While it did fit better, I was a bit disappointed with the look and size on my wrist.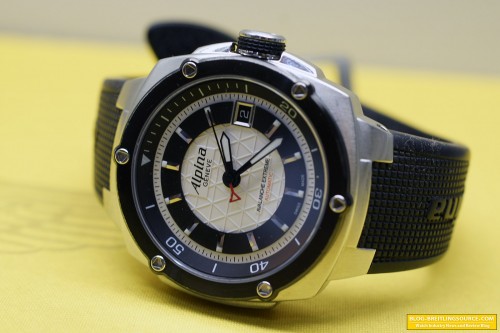 This model differs from the large 48mm models in that its not a significantly smaller watch, and actually wears much more like 40mm rather than the 42mm it measures at. This is probably partly because of the narrow lugs and rubber strap, combined with the somewhat "shorter" length of the watch from lug to lug.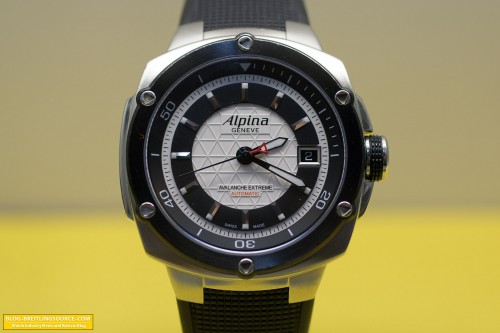 Generally it is a handsome watch, however it has a very symmetrical look that I found slightly bothersome on the wrist. I feel like the watch looks like a "target" on my wrist, and I didn't find the look very attractive on me. Combined with the fact that the watch looked too small on my wrist, I knew it was going to be a catch and release.
The watch features a 316L stainless steel case with PVD Stainless Steel bezel and caseback with exhibition window. Crystal is Sapphire, and the case is water resistant to 200m. The Alpina Avalanche Automatic is Swiss Made.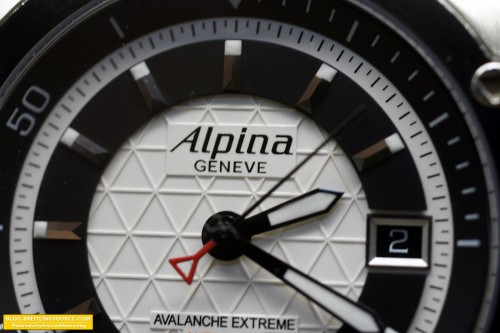 The dial is very nicely designed, and probably one of the most interesting parts of the watch. It is multi-layered and textured, giving it a sense of complexity. Sorry for the somewhat fuzzy photos, I didn't realize that it wasn't in focus when I took the shot! The center of the dial features a matte white triangle pattern, and then alternative black and white rings, also in a matte texture on a raised section of dial. The indices are applied, and feature a small amount superluminova, not particularly bright. The date is located at the standard 3 o'clock location.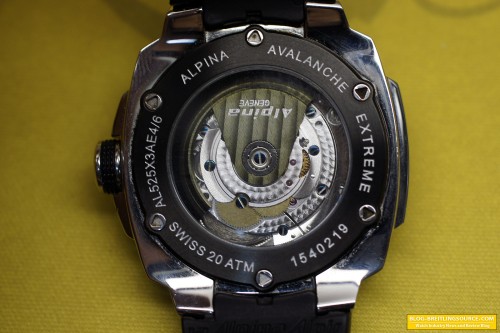 The caseback is exhibition, and gives a good view of the AL-525 (Base ETA 2824-2) movement. It has a nicely designed rotor, that looks quite interesting. The rotor is given a Geneva Stripe finish, and then PVD coated with a polished finish, which is a nice change. Alpina also uses proprietary triangular shaped screws to secure the case back and bezel on this particular watch.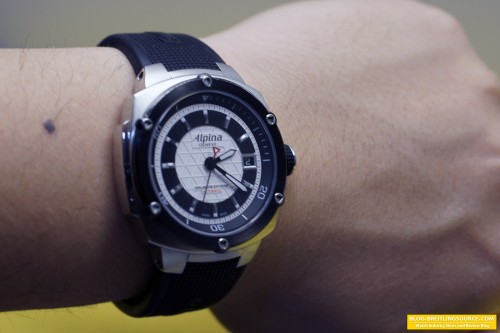 And finally the look on the wrist. It may not look especially small in this photograph, but in real life, it gives the perception of too small, like a large man wearing a suit that doesn't button in the front. And really that can be summed up as my comment on this watch.. too small for my tastes, but the design has some potential. I would have liked to see a 45-46mm version that conforms better to my wrist than the 48mm full sizer. Overall a decent design, with some decent execution on a watch that is a bargain on the secondary market if you like this smaller size, and also a great deal with the larger size too.