Tue 8 Nov 2011
In the wake of the break-up of Ferrari and Panerai, many wondered who would be the next to carry the Ferrari logo on their watches. This has been answered: Hublot.
The partnership between Hublot and Ferrari far surpasses the typical licensing and sponsorship agreements that Car companies often forge with Watch companies, thich one is described as a "genuine exchange between the two brands, a pooling of resources and information."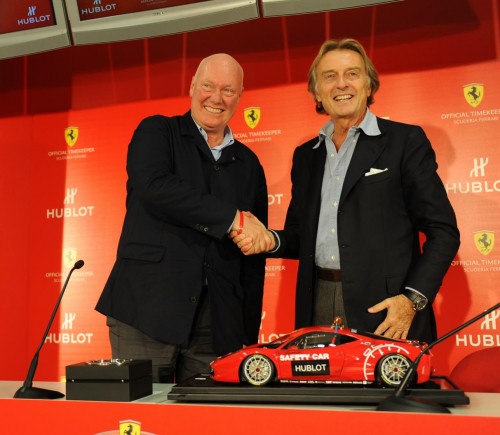 Hublot becomes the exclusive watchmaking partner in the full range of Ferrari's activities including the "Official Watch" of Ferrari, "Official Timekeeper" of Ferrari, "Official Timekeeper" of Scuderia Ferrari, "Official Watch" of Scuderia Ferrari, "Official Timekeeper" of the Ferrari Challenge, and partners in Ferrari special events.
"Exclusivity, technology, passion, style: Hublot and Ferrari share many core values and this new partnership between two such highly prestigious brands is an important milestone for both," said Luca Cordero di Montezemolo, president of Ferrari.
"This collaboration, rich in a host of synergies, gives Hublot a massive boost along the road," added Jean-Claude Biver, CEO of Hublot.