The MontresGB, or MGB Diver, is a German Made watch made for BMS Jewelry in Scottsdale, AZ. Interestingly, their website has less info about them than their eBay site. They also sell other watches by brands such as Tag Heuer and Breitling.
The MontresGB watch is a 1000m Diver designed by BMS Jewelry, and is actually a pretty nice watch. They are currently selling them for $600 on their eBay site, and claim the retail pice is $1500. Given the specs of the watch, there are many others out there selling for that kind of price with similar features, but stronger pedigree.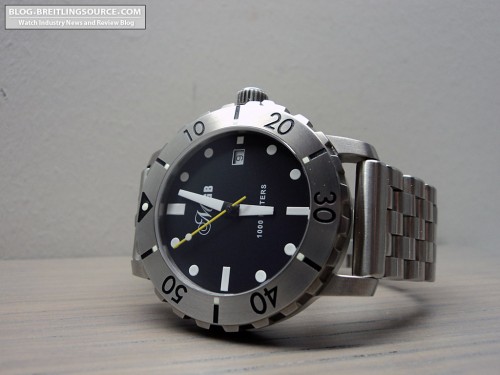 As you can see, the watch is fairly attractive as Divers are concerned, and features similar minimalistic design as Kobold watches, the arctic diver in particular. The MontresGB is actually quite feature rich for its $600 price tag:
1000m Water Resistance
Swiss ETA 2824-2
Sapphire Crystal
41.2mm Case Diamter
German-Made 316L Stainless Steel Case
SuperLuminova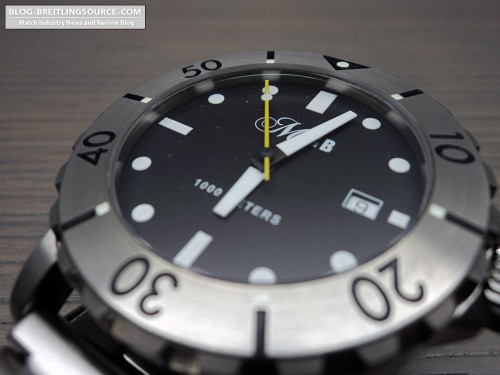 Nice matte black dial with what looks to me like a Kobold-inspired look, with a bit of Rolex Sub thrown in. Of course everything these days seems like a derivative work, but so I'll just leave it at that, but it is a nice looking, balanced dial with great lume. Easy-to-read, and nothing to distract you from telling the time.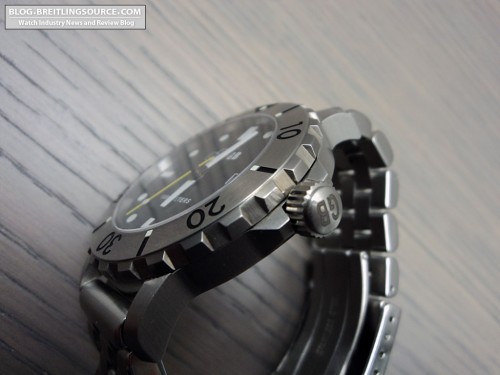 The German-Crafted case is indeed very nice, and exceeds the quality of more entry level luxury Swiss watches such as Hamilton. The "GB" signed crown is rather uninspired, but I suppose is better than nothing. Unidirectional bezel is easy to turn and use. Sapphire Crystal is flat and no AR coating is present.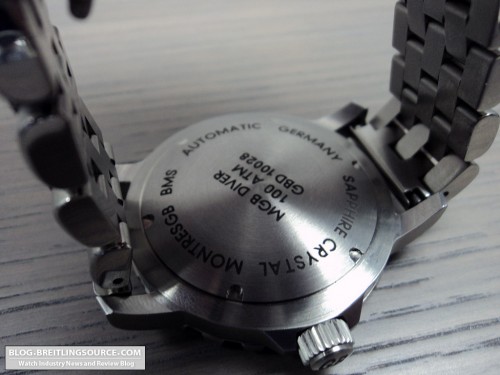 Case back is quite nice, with everything deeply laser etched into it, giving it a quality look and feel. The lugs are interestingly only 20mm, which to me looks a bit odd sometimes. Its probably my biggest complaint with the watch as I would really have liked to see 22mm lugs, especially since the lugs themselves are somewhat puny. The watch would look much more substantial with a bit more lug width.
Bracelet is very nice for the price point and appears to be a variation on the all-popular Watchadoo bracelet.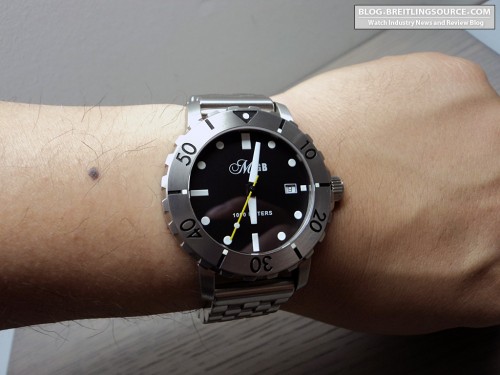 Finally the money-shot. Great wrist presence and in the end what I would call a poor-mans Kobold. Very happy to keep mine as a beater, and will probably use it for a while at least. The 1000m water resistance and quality German and Swiss craftmanship sold me on this watch and I was not disappointed.