It looks like there is a continuing interest in Rose Gold as the new luxury watch material of choice after stainless steel. I'm seeing more and more people gravitate towards the Rose Gold stuff, as White gold looks too much like stainless steel, and yellow gold is too tacky for their tastes. There seems to be a variation of Rose, Red and Pink Gold in the industry. There is no standard, so with varying levels of copper and other metals alloying the Gold, different colors of Rose gold are produced. Breitling has both Red and Rose gold varieties.
A lot of beautiful peices with in Rose Gold like this Ebel 1911 BTR Perpetual Calendar that was just released. Note also the Perpetual Calendar is a significant complication compared to what Ebel has normally produced – which is another trend we are seeing with luxury watch brands.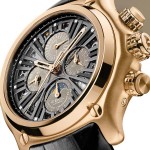 Jaeger LeCoultre has decided to go against the grain with one of their most recent releases, the Master Grande Ultra Thin 40. Though this watch is extremely thin, it still boasts a relatively decent 40mm diameter. And the case is available in stainless steel and…. you guessed it.. Rose Gold!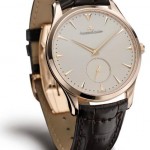 One of the latest offerings from Corum, the Romvlvs Retrograde Annual Calendar. Beautiful peice of work, 41mm, beautiful dial and case is in 18kt Rose Gold, of course. Dial is black, as it seems to compliment Rose Gold the best. However, we are starting to see a little bit of Two-Tone rose gold and steel as well. I am hoping that more of this will start to happen as the combination is striking in my opinion.