Tue 23 Jul 2013
The Sinn 556 is the baby of the Sinn family, weighing in at 38.5mm in diameter and only 10mm thick. While I always liked the look of the 556, I always felt it would be too small for me. However, I am finding lately that I am gravitating towards smaller watches for my fun pieces because its nice to have something that feels like you're wearing nothing.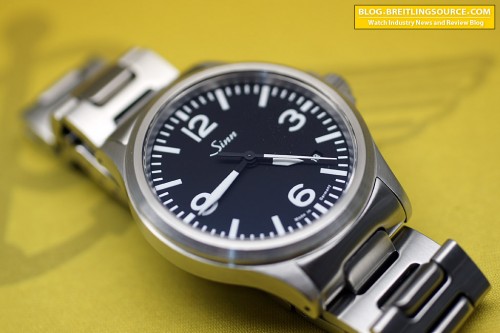 Its a beautiful watch, with a matte black dial and some serious AR coating that makes it look like there's no crystal at all. This is a A dial, which has arabics on it instead of just indices. The crystal is sapphire, but flat.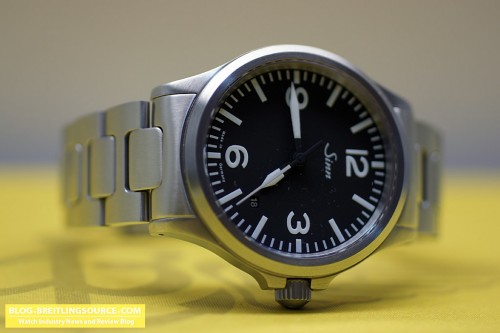 The case has a brushed satin finish, and is precision machined. It is very well crafted, typical of Sinn's usual casework. Nice three-piece construction with a fixed bezel. The bezel is fully brushed as well, but would have been nice with a polished front. The date window is at 4:30, and has a matte black finish to it as well, but is quite small and not easily read for those with poor eyesight. The hands, however, are very easy to read and glow like a torch at night.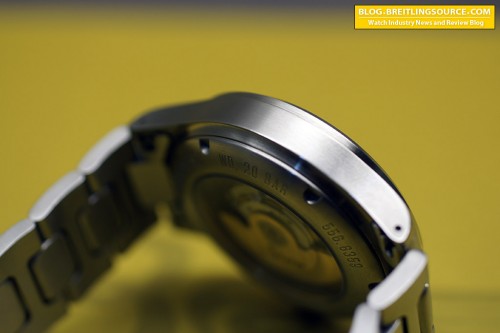 Here's a shot of the side of the watch, which is well crafted and has lug holes, which are always a nice feature. They always make removing straps a bit easier.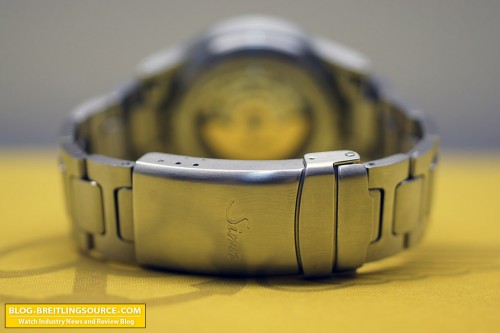 The stainless steel bracelet features a stamped flip-lock clasp which is standard for all the Sinn bracelets. This particular bracelet isn't tegimented, so doesn't offer any additional scratch protection. The bracelet is also given a brushed finish to match the watch. The 757/857 watches from Sinn have a similar look, but larger cases and a Bead Blast finish in contrast.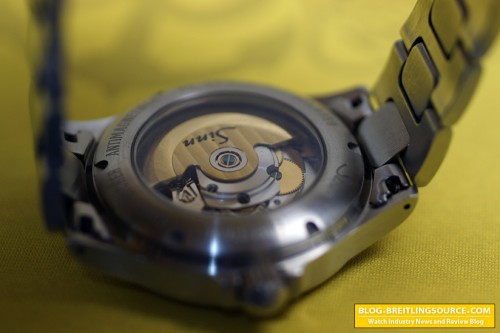 The Sinn 556 features a Swiss ETA 2824 movement, with some decoration and Sinn signature on the gilded rotor. Not the most fabulously decorated Rotor, but still looks nice nonetheless I suppose. Overall, all the parts of the watch are very meticulously crafted and it is what continues to make Sinn so successful as a luxury tool watch company.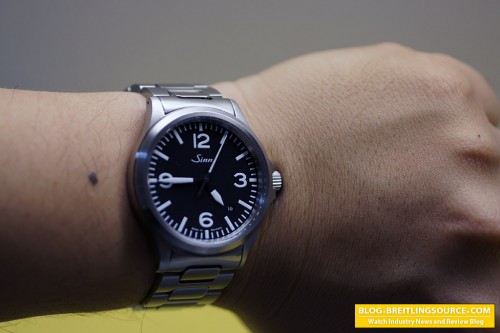 Overall I am really loving my Sinn 556, even with its small 38.5mm diameter. The watch wears very nicely for such a small watch, kind of like a 36mm Rolex Datejust manages to look good for its size as well. The 556 will be with me for some time, as I think I will be keeping this one for a while at least. It fits the bill for those low-key days where I don't want to draw attention and I don't want to bang my watch into things because its so big.
Specs:
Case diameter (mm): 38.5
Case thickness (mm): 10.0
Case back: Transparent
Case metal: Stainless steel
Dial color: Black
Winding: Automatic