Wed 14 Sep 2011
Announcing the new Breitling Colt! What do you guys think? I saw some preview pics from a dealer, and I'm still not liking this one so much unfortunately. All of the models in the Colt line are now Quartz, no more rider tabs.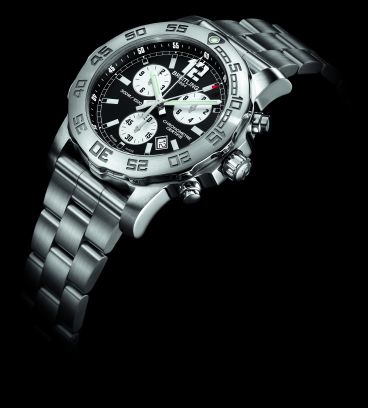 FRONTRUNNER
The same spirit but a new look. Breitling has entirely redesigned its Colt model, a symbol of sturdiness, reliability and performance. A sculptural model carved in steel, the new Colt turns heads with its original styling clearly built for action, achievements and thrills. With its solid construction and its water resistance to 300 meters (1,000 ft) or 500 meters (1,650 ft), it establishes itself as an exceptionally sporty model, a champion and natural frontrunner. Its originality begins with the bezel featuring a taut, sophisticated shape and stamped numerals, and continues with the case echoing the same outline. The dials are adorned with new rounded numerals exclusively designed for this model, with rhythmical motifs and with a play on colors. The steel bracelet reinforces the unique character of this fresh, youthful and dynamic design, while ensuring optimal comfort and sturdiness.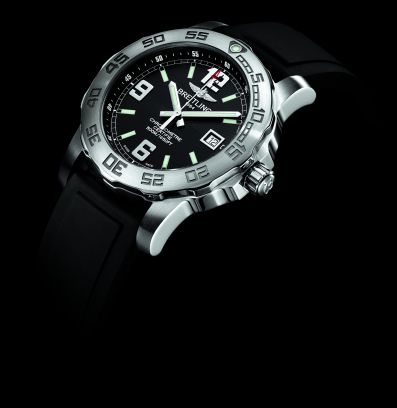 Available in three versions endowed with strong and distinctive characters, including a chronograph and a ladies' watch, the new Colt is equipped with SuperQuartz™ movements that are chronometer-certified by the COSC (Swiss Official Chronometer Testing Institute), like all Breitling movements.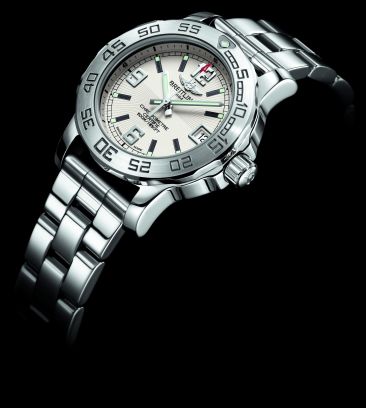 RENO AIR RACES
Reno, Nevada. Every year in September, an array of original planes converge on Stead Airport to take part in one of the world's great aviation venues: the famous Reno pylon races. Flying at dizzying speeds, these aircraft face off on circuits traced out in the desert, just a few feet off the ground. Their motto: "Fly low, go fast, turn left." As a partner of all the fi nest hours in aviation, Breitling is the main sponsor of this event that is unique in the world – thereby pursuing its mission to perpetuate the competitive spirit, the taste for performance and the fierce quest for victory.
6 Responses to "The New Breitling Colt!"
Leave a Reply