Stone Cold Steve Austin saw my write-up earlier this week about his watches and sent me an email! So cool. He also emailed me a pic of his latest acquisition, a Breitling SuperOcean Heritage Chronograph 46 Limited Edition with the white dial and black dual registers.
He indicated that he picked it up in Vegas when he was there watching the UFC Fight recently. I can't help but notice that he has great taste in watches – very similar to my own. Pic below sent from Steve Austin himself: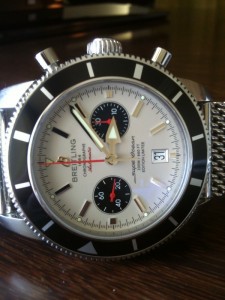 On a side note, I can't wait to see the Expendables movie that he's in with Sly Stalone, Jet Li and Jason Statham coming out in August!!!