Sat 10 Sep 2011
As many of you know, Wyler shut its doors about two years ago due to the economic downturn and its inability to keep up in the marketplace. The reality is that no one really wanted to pay $15,000 for a watch with a nearly bone-stock ETA 2894-2 movement in it. So now we are seeing the watches pop up online and on eBay for around $2200-3000 in their basic models.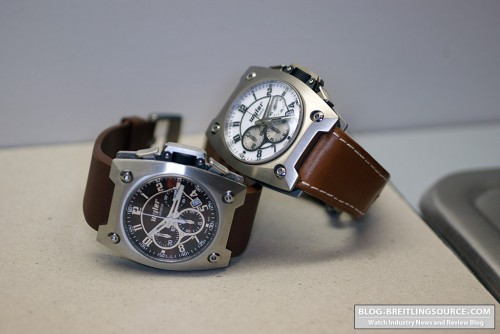 As you can see from the above, I bought two! I really love the look of the Code-R Chronos, and they come in tons of different configurations. I actually changed the strap on the white dialed model to a black rubber strap, and like it much better. I generally prefer the rubber straps on these I think – Suits the style much better. These watches feature suspension-mounted movements in high-tech titanium and carbon fiber cases, but are available in many different types of materials including gold, tantalum and ceramic.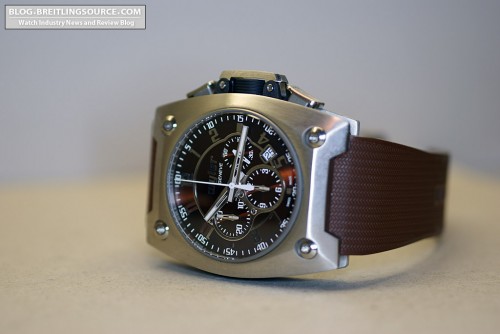 As you can see, the brown one features a brown rubber strap that has what looks like a tire-tread pattern on it to give it a sporty look. The four screws visible from the top of the case hold springs that the central round part of the watch sits on, giving the watch a suspension system, similar to that which is found on some Formex watches, though somewhat more refined.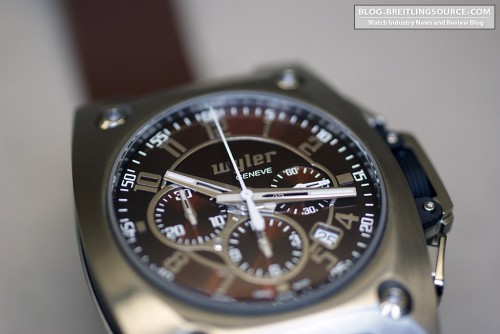 The brown dial is metallic, almost like what some call "Liquid Copper". Lume is limited to a small portion of the hands and is not especially bright, but is bright enough for regular limited use. Watches are all completely Swiss Made, with quality components. The crown guard is an interested innovation they use, and differs from others in that it pulls out and pops into place and feels very well made. Everything about the watch is very well made, but since it is no longer in production, replacement parts may be hard to find.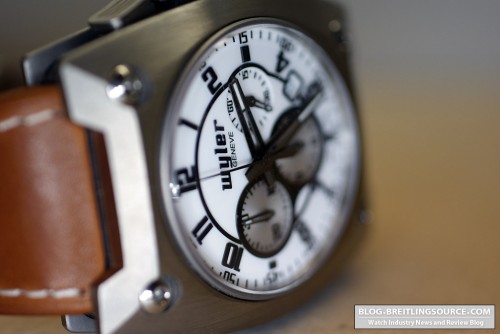 The white dial is a glossy white, with black chrome applied indexes. Another interesting feature is that the crown is surrounded in rubber, like the tire of a car. It makes turning the crown much easier since it is partially obscured by the crown protector. The calf leather strap that came with the watch waas very soft and easy to scratch.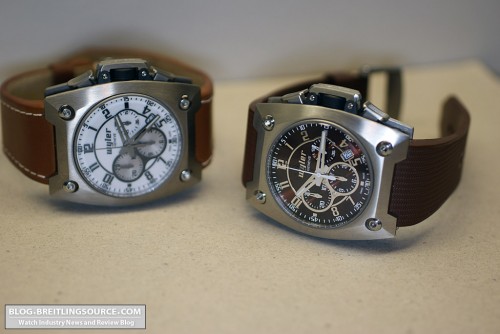 Overall, I really dig my two Wyler Code-R's. For the price that they are available at now, they are a good value if you like the style. The watches are well-made and the fit and finish is a very high level. The movements, while stock ETA 2894-2's, do have a black chromed rotor which looks pretty nice. I wouldn't pay anywhere near what the original retail was, but its a watch I would recommend at the current pricing.
Specs
Case Size: 44mm x 52mm
Case Metal: Titanium and Carbon Fiber
Strap Material: Rubber/Leather
Movement: ETA 2894-2, 37 Jewels
23 Responses to "Wyler Geneve Code-R Chronographs"
Leave a Reply