Tue 5 Aug 2008
I wonder if US MADE will ever carry the same prestige that the "Swiss Made" declaration on swiss watches do? Michael Kobold seems to think that its certainly they should work towards, because he's introduced the first serially produced American watch since the quartz crisis of the 1970's. Back in the days when Elgin, Waltham and Illinois watch companies had a huge impact on the watchmaking industry. Kobold is bringing America watchmaking back, with the new Spirit of America automatic watch: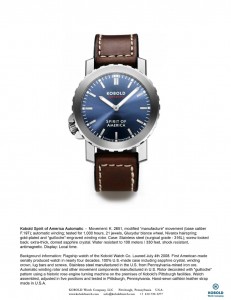 Kobold claims that the watch is 87% made in America with the balance of the parts made in either Germany or Switzerland. The watch has a manufacture movement, but also states that it is a based on a German watch movement, called a Caliber Forster 197.
The watch was launched on July 4th, 2008, which is the US Independence day, and coincedentally, the 10 year anniversary month of Kobold. The dial proudly displays "Pittsburgh Pennsylvania" as its region of manufacture where one would typically find the Swiss Made printed.
Watch has a 100m water resistance, case constructed of 316L stainless steel. Movement is a K.2651 Caliber with no second hand. Power reserve of 46 hours. Case diameter is 44m, in the modern-day classic soarway case. Lug width measures 22mm.
Overall, this looks like a killer watch, American heritage or not. This is Kobold's flagship watch, and carries a retail price of $6250.