Every so often, a watch is released that simply touches your soul, your very being and calls to you.. and you simply must have it. For me, that watch is the Panerai PAM 572 announced earlier this year and starting to become available now. This is a very sweet watch, and features the new in-house P.4000 Caliber movement with Microrotor.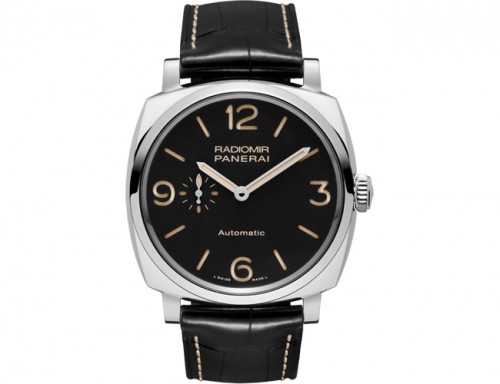 Nice, versatile black dial with sweet antiqued lume arabics and indices. The 1940 case is really cool because the dial is really big in proportion to the case and gives it a neat vintage Panerai look. I would have preferred if they left the word "Automatic" off the front of the dial, or maybe they could have made it all caps. The 1940's case is a neat cross between the Luminor case and the Radiomir case, which is one of the reasons that I really like it. It kind of gives a Radiomir feel but with some of the features I prefer like regular lugs.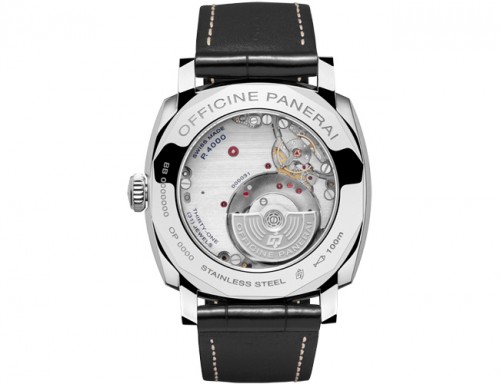 That's the sweet new P.4000 caliber movement, with the microrotor, which is another feature that has always struck my fancy. Something about a well executed microrotor has always attracted me and the fact that Panerai has decided to go that route is pretty cool in my mind since its not necessarily a popular trend. Really really want this one, and at $8,900USD, it seems like a pretty reasonable buy.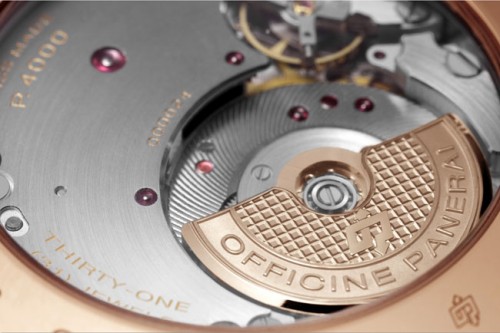 Here's a close-up of the microrotor P.4000 movement in the PAM 573, the red gold one, which is the same movement that's in the PAM 572 save for the finishing details.
I will be on a search for this watch as its simply too perfect for me to let slip by!!!!