As I rediscover my love for Panerai, it is through the PAM 250, which is quite a sporty looking Panny. The PAM250 Chrono Daylight looks quite a bit more modern than the Historic line offerings from Panerai. Very different than the Base models which Panerai is known for.

On the brushed stainless steel bezel is a Tachymeter scale, which goes further to create the somewhat sportier look of the watch. Pushers are discreetly integrated into the 44mm watch case and look very good, however my only complaint is that the lower pusher is difficult to push due to the Crown Lever covering it partially.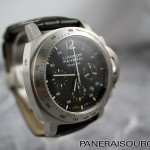 The shot above shows the quick change date mechnism that can be adjusted by pushing a pin into it. The instructions state that you can use the corner of the provided screwdriver, but I found that it did not go deep enough when I used mine. The Dial is a matte black which is typical of Panerai… very simple when compared to the likes of brands such as Breitling or Zenith. One nice feature of this dial is the luminous numbers on the subdials.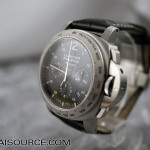 The second hand for the chronograph on this watch is interesting. While the rest of the hands are a matte black with Lume on them, the second hand for the chrono is a shiny silver metal color, in contrast the the brushed stainless that the rest of the watch has. I do not know why Panerai did that, but it seems an odd choice… having said that.. it does not seem too out of place.
As you can see, the strap is held in with the usual Panerai screw pins. The strap provided with this model is the Black Croco on Deployant, with an extra Rubber strap.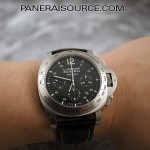 I feel that the size fits my sub 7″ wrist perfectly, and highly recommend this watch to anyone interested in a slightly more complicated Panerai, that isn't necessarily interested in their historic models.