Breitling finally decided to bring back the old titanium Chrono Avenger in its new incarnation – the Breitling Avenger Bandit! I think this is a great move from Breitling since there was quite a bit of pent-up demand for the ultra large titanium tool watches and the Avenger Bandit is a great update to the old Chrono Avenger.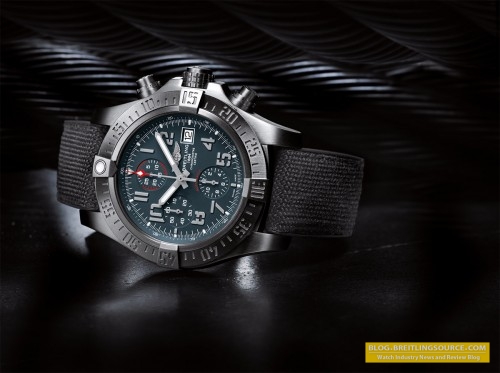 This is a pretty straightforward release from Breitling, essentially taking the Avenger Skyland and updating that to a Titanium Case, which sheds nearly 44 grams from the weight of the watch head.
From Breitling:
The Spirit of Naval Aviation
With its 45 mm titanium case, its gray 'stealth' look, its 'Military rubber' strap and its high-performance mechanical movement, the new Avenger Bandit more forcefully than ever embodies daring feats and extreme missions.
With its 45 mm, its ultra-sturdy and light satin-brushed case, its gray dial with aviation-inspired stencil-type numerals and its high-performance movement, the Avenger Bandit embodies the world of daring feats and extreme missions. An authentic instrument for professionals, this gem of power and technicality (water-resistant to 300 m/1,000 ft) is fitted with an exclusive strap combining rubber with high-tech Military textile fiber to ensure maximum sturdiness and comfort. The entire spirit of naval aviation on the wrist.