Here is the last of the Formex's that I've had the privy of inspecting. The Formex 4Speed TS 375 Chrono. Velly nice. I recently picked up a Breitling Chronomat Evolution, so that will be up soon too! Keep reading 🙂
So this is one loud, yellow and titanium watch. With the traditional Formex 'hunky chunky' bracelet… cuz out here, we're all about the hunky chunky big watches.. Formex, Breitling, Bell & Ross, you name it.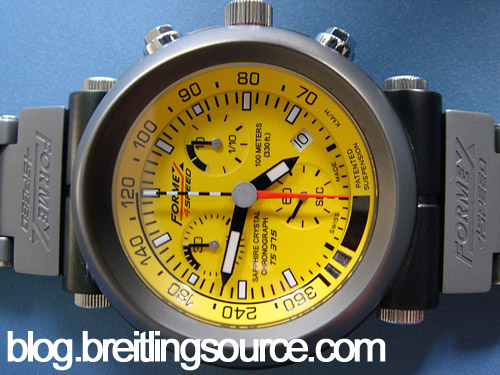 Quartz chrono again, and with that odd non-quick set date that seems to be all the rage right now. Why? I don't know. I believe this one may be changeable by moving the hour hand back and forth past midnight to advance date quickly. But being a quartz watch, changing the date large increments isn't that common a task.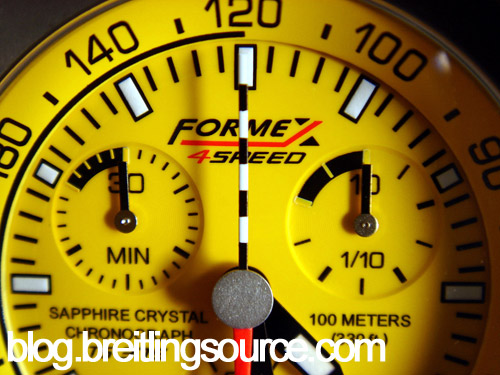 Nice matte, yellow dial. Sharp lettering, none of that cheap fuzzy lettering you get under a loupe with cheap watches.. but its Swiss Made, so its expected! The yellow is not to my taste.. a bit strong. I like the yellow dial on the Breitling Avenger M1 a bit more than this.. paler and less austentatious. The yellow Omega Speedmaster schumacher edition isn't really a fave of mine either. Not too many yellow watches are.
Check out the fantastically large and thick Titanium bracelet on this Formex TS 375. Far thicker than the one on the GT 325 series, and the AS Series as well. Though I've been told the AS Series can have hunky chunky clasps added.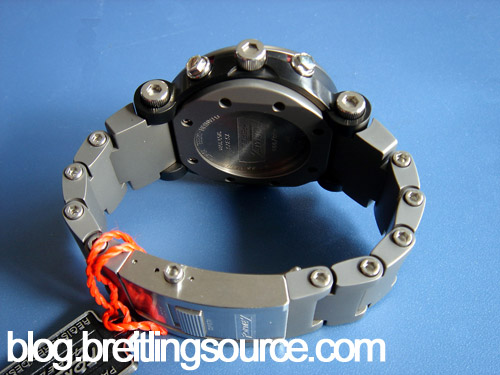 Same back as the others.. but this model is all matte, no polished bits. Nice suspension as always and looks larger than life on your wrist. GUARANTEED to get noticed! Enjoy!