In addition to watches like the Rolex Daytona and the Omega Speedmaster, the Navitimer from Breitling is without a doubt one of the greatest and most important chronographs of all time, given its rich history, rugged beauty, and synonymity with quality. While Breitling produces the Navitimer in wide range of different variants today, it's worthwhile to look back at the origins of this pilot's chronograph, to see where the brand's designers are currently looking to for inspiration.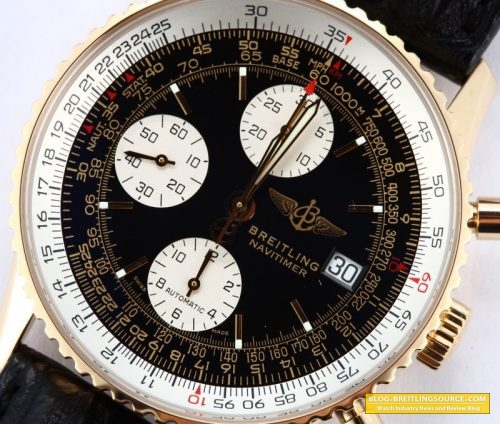 The Navitimer's story begins in 1952, when Breitling manufactured a stainless steel chronograph, with a black dial that featured the emblem of the "Aircraft Owners and Pilots Association", or as it's more commonly known, the AOPA. Especially desirable early examples were powered by either the Venus 178 or the Valjoux 72 – both workhouse, manually wound chronograph movements.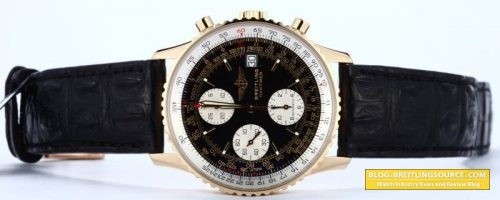 These watches were effectively born out of a partnership between Breitling and the AOPA, since Breitling saw the sizeable interest for a professional pilot's chronograph equipped with a number of useful scales surrounded by a slide rule bezel, and many members of the AOPA were among those interested. From then on, Breitling would continue to produce both functional and beautiful Navitimer pilot's chronographs, that would be worn by tasteful collectors, and celebrated by professional pilots. Today, rare vintage Navitimer references will often sell for astonishing prices at auction.
Now knowing that the Navitimer is watch with a storied past, it's nice to know to that as the brand has progressed through the years and evolved, they've still managed to channel the core DNA of what made some of their early watches so great. A watch that supports this notion perfectly is this one – the Ref. K13322 in brilliant 18K yellow gold. Even though this watch has a vertical stack of chronograph registers unlike what's seen on classic 1950's and 1960's pieces, it maintains key details of the original watch, like the scientifically styled, highly legible numeral and scale font, along with the contrasting red accents, and iconic Breitling logo.
Breitling has also incorporated a number of modern conveniences into the watch's movement, to give it a reliable and luxuriously hassle-free ownership experiences. These conveniences include a Swiss made automatic movement with a power reserve of up to 42 hours, and a date complication located just between the brand logo and model designation on the glossy dial at 3 o'clock. Pair all of that with a hand crafted crocodile strap, with a Breitling signed buckle in matching 18K yellow gold, and you've got an awfully good looking timepiece, backed by years of history and watchmaking tradition.
While collector's tastes are beginning to diversify more and more in 2016's watch market, you can never go wrong with a true legend of modern watchmaking, like the Navitimer. Such watches are sure to provide years of versatile wear and perpetual delight for generations to come. You really just can't beat the classics, can you?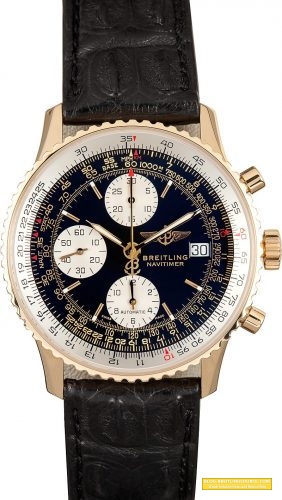 Author of this Article: Paul Altieri is the Founder and CEO of the popular pre-owned watch site Bob's Watches.