Wed 25 Feb 2009
Since the Economy has not recovered, I will continue to review some more affordable watches!
WWII style Pilot watches are a popular style of watches these days, with IWC coming in at the top of the price range, with a dozen or more other Swiss and German brands coming in anywhere under them. Some of the major Pilot watch producers include Steinhart/Debaufre, Archiemede, Ollech & Wajs, Damasko, Tourby, and Laco. What many may or may not know is that Laco was one of the five brands selected by the German military to produce watches for them during WWII along with Wempe, A Lange Stowa, and IWC. So if you want an authentic, yet affordable WWII style Pilot watch, Laco is definately your best bet.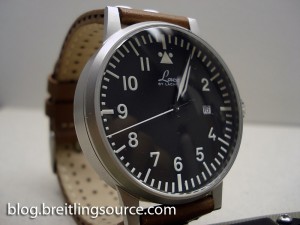 Now, this is an automatic pilot and 42mm in diameter, which makes it different from the originals which were 47mm, and manual winding. They were large so that they could be worn around the outside of a flight jacket and still be easily seen. You can get the 47mm version from Laco, but the one I have here is 42mm, and has an ETA 2824-2 Movement, etched with the Laco logo on the rotor.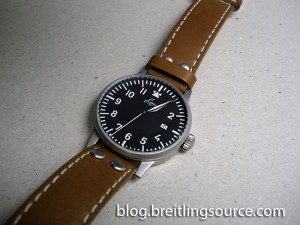 Its a very nice watch, with a mineral crystal (it can be ordered with Sapphire), and sits very well on my somewhat small wrists. The lugs have a interesting shape as they stick straight out from the case, rather than curving down. The Lume on the watch is okay, but not fantastic.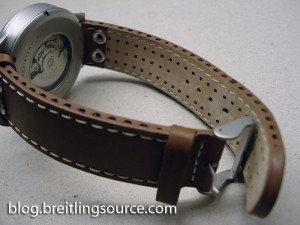 There you can see the air-cooled perforated strap, but it is only perforated on the back and sides. It remains solid on the top, which is a nice feature. It makes the watch very comfortable to wear, and even comes with the same strap in black in case you want to swap.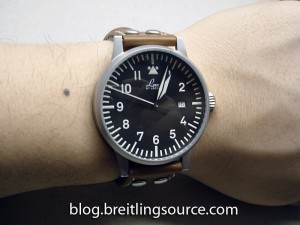 And finally, a wrist shot. More and more I am finding I like the 42mm size, and though I do enjoy the 47mm pilot, I find the 42mm more suitable for me, and really in the end looks better, regardless of wrist presence.
If you like the Pilot watches, do yourself a favor and check out Laco. They are one of the original suppliers for WWII pilot watches, and they continue to make a great product for a great price today. This 42mm Pilot sells for about $450 new.
20 Responses to "Laco Pilot Watch from Germany"
Leave a Reply