Fri 16 Nov 2012
From September 1st, 2012 through March 31, 2013 Fortis is having a contest to win a parabolic flight through space! To win, just submit your ideas or passions about space travel through artistic expression in the first ever Zero-G Space Art Contest! Going to space would be pretty cool, but I'm not really an artiste. Perhaps some of the Breitling Blog readers will find this interesting if you haven't seen it already?
From Fortis:
"After 100 Years of Going Where No Watch Has Gone Before Fortis Wanted to Give Their Fans the Same Opportunity"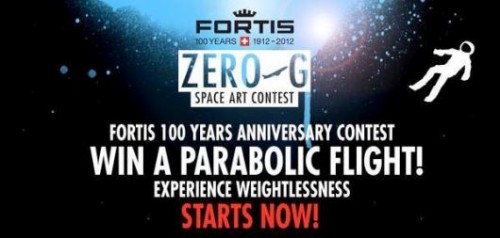 "The winner of this unique contest will have a once in a lifetime opportunity to leave planet earth and experience the incomparable feeling of weightlessness on board a special parabolic aircraft flight that simulates the sensations of orbital flight. The lucky winner will accompany scientists from the German Sport University of Cologne on board a specially equipped Zero-G aircraft as they explore the sensations of weightlessness. The winner of this unique contest will also be equipped with the same Fortis B-42 Official Cosmonauts Chronograph worn by astronauts on the International Space Station.
Anyone over the age of 18 can enter the Fortis Zero-G Space Art Contest by submitting their original artwork or videos to the Fortis Space Art Gallery. Winners will be determined by a vote of the online community. Get your friends to vote for your entry, because the entry with the most votes wins. There is even a prize for voting, since everyone who votes in this unique contest will be entered in a special drawing to win a second Fortis B-42 Official Cosmonauts Chronograph. The more votes your entry receives, the closer you are to a weightless parabolic flight on board the Zero-G aircraft.
Almost any original drawing, photo, painting or video related to your thoughts and feelings about space is eligible for this special celebration of 100 years of Fortis innovation. Get started now, and you may be in for the ride of your life."
Leave a Reply