Sat 15 Aug 2009
My second Glycine that I've owned is this outstanding and uniquely beautiful Glycine Airman SST D24 Limited Edition Watch. This watch has the iconic Glycine Airman SST case, in a large 44mm diameter, double sapphires, and bezel control crown at 2 o'clock (4 o'clock on the 24hr dial of the Glycine). This watch is a limited edition of 300 peices, so is rather rare. Other versions of ths Airman SST are readily available, while this version is a bit more rare.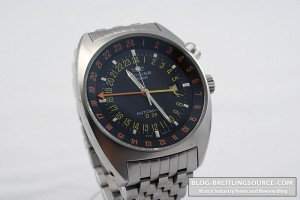 As you can see, the SST D24 has a very shallow but wide dial, and a very visible 24hr dial and 24hr chapter ring that allows you to read three 24 hour time zones in one glance. The color combinations of using all yellow for one timezone and all orange for another makes it easy to distinguish all three timezones. The main hour hand on this model is also a 24 hour hand in addition to the double sided 24-hour GMT Hand. The D24 in the model name stands for "Double 24".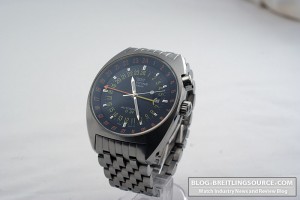 How the watch works is you set the main 24hour hand to the current time, then follow by setting the yellow end of the GMT hand to the second time zone you wish to read. The third timezone is finally set buy turning the crown at 2 o'clock so that the desired time corresponds to the orange pointy end of the GMT hand. Do not mistakening think that the Orange and Yellow GMT hand is two independent hands.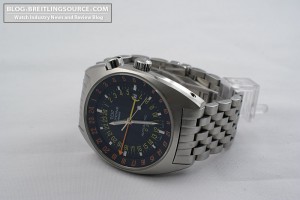 The large 44mm case wears very large due to the shape of the case, and also sites very low and sleek on the wrist, giving the watch a very different feeling that most other watches would give. I recently traded this watch, but unfortunately in my haste, I forgot to make a video review of this watch so this static review is all you guys are going to get!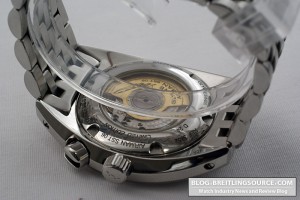 Nice shot of the exhibition back here. The Gold Gilted rotor has the SST 06 engraved on it, and looks quite nice. The movement is an ETA 2892-A2 with GMT module, and modifed to have dual 24hour hands. Not sure if Glycine does the modification in house or if it is received this way from ETA.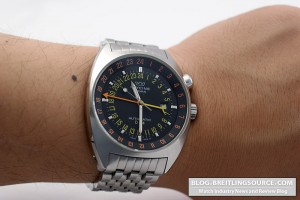 The requisite wrist shot. Very nicely sitting on my wrists, this one works well for both large and small wrists. I like this watch so much that now that it's gone, I think I want to purchase another one! Hope you guys enjoyed the review.
Specs
Diameter: 44mm
Movement: ETA 2892-A2
Crystals: Sapphire
Case: Stainless Steel
Complications: GMT, 24 Hour Hands
Leave a Reply