Fri 30 Jul 2010
Another Limited Edition U-Boat is going to hit the streets soon, featuring a limited production of 999 pieces and a 53mm Titanium Case. This one harks back to the classic Italian Navy style watches, and one can't help but compare it to the Panerai Egiziano in terms of looks.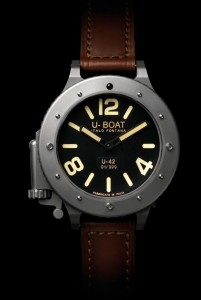 The crown device is interesting on this one, and I'm not quite sure how it works from the description, but as I understand it, the crown flips out and can be turned when it is released by the lever on the bottom.
There is lever on the case at around 4 o'clock that when engaged, prevents the crown from turning, which is a pretty cool feature, especially if you're going to use it for diving. The watch is good to 300m. The watch features a caliber U-BOAT U-28 automatic movement, which I assume is probably based on a [EDIT]ETA 2824, though I can't be certain.
Dial is available in black or beige, and caseback is a signed solid back with some cool inscriptions. I kind of hate to admit it, but I like this watch!
4 Responses to "Another U-Boat: U-42 Limited Edition"
Leave a Reply