Thu 26 Apr 2007
I picked up a Versace Madison automatic a week or so ago, and have been wearing it for a couple of days over the last little bit. This is a very nice watch that deserves a mention in my blog. It won't be getting too much wrist time for the next little bit as I've picked up a Chronomat Evolution and just got it in yesterday! But enough about the Breitling 😉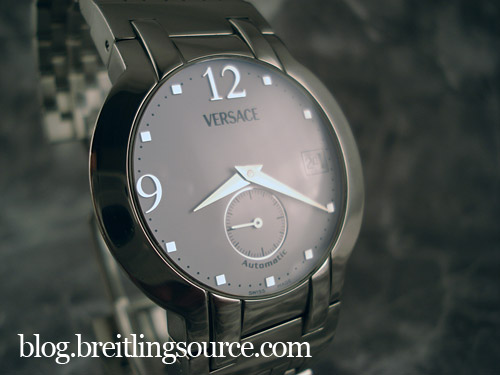 The Versace has a stainless steel case, stainless bracelet and everything. The bracelet uses screws, not push pins, so it is a nice touch. Multi-link style reminds me of IWC Fleiger and Movado Horwitt bracelets, among others. The dial is very nice, with a matte white finish, and the sapphire crystal is domed and AR coated on the inside.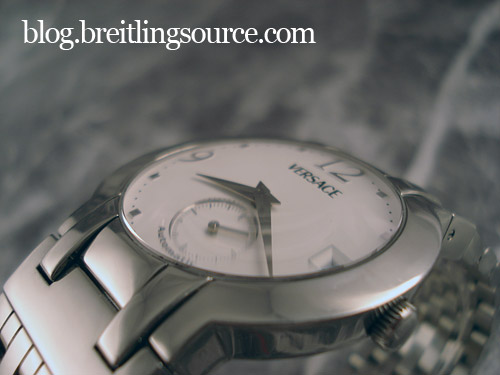 Nice steel hands and small seconds complication, with date window at 3 o'clock. The word "Automatic" appears on the dial in a somewhat chunky type. Not sure the exact diameter of the watch, but I would put it around 38-39mm. Not small, but not big either. A good size for a dress watch.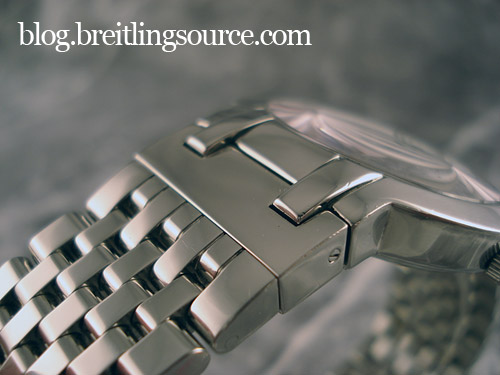 The way the bracelet connects to the watch is unique, and gives it a extra "style factor" making the watch seem more of a design-based watch than a movement based product. It does indeed look very good on the wrist, even with the smaller face that I am not used to. The
wide bracelet helps.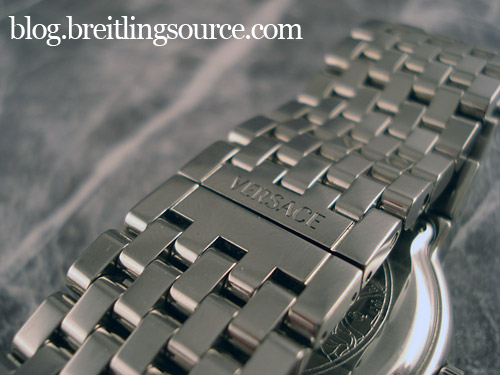 The clasp is a friction lock double butterfly clasp, similar to the Breitling Rouleaux bracelets. Holds pretty good, and has the versace typeface deeply engraved on it. Very nice!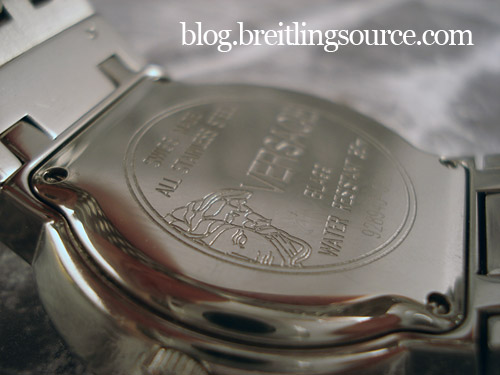 Caseback is also engraved with the model number and serial number as well as Versace logo. Four micro-screws hold the caseback on, and beneath it hold the swiss made movement… can you guess which it is?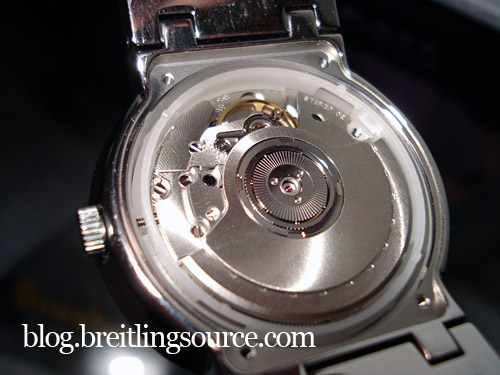 ETA 2895-1. Not bad. Movement looks stock, and likely has no modifications to it at all. Still a nice movement, 30 jewels, Swiss made ETA, based on the 2892. It kept within about 10 seconds/day… good enough for me. For what this watch is, a designer timepeice made for the fashion concious, not the WIS, this is a fantastic watch. Looks great with edgey clothing styles and that metro-sexual look.
Movement: 7/10
Case/Crystal/Crown: 8/10
Dial/Hands: 8/10
Strap / Buckle / Bracelet: 7/10
Accuracy: 8/10
Comfort: 9/10
Packaging / Manual: None Received
Overall Impression: 8/10
One Response to "Versace Madison Automatic with Small Seconds"
charlie wang Says:
June 25th, 2008 at 12:13 am

I have one in white colour,was puirchased 2000.i was skinny then,but lost the extra links, i wonder where can i purchase 2 extra links. many thanks. best regards charlie
Leave a Reply