Sun 18 Jul 2010
One brand that I keep getting sucked in by, even though I rarely keep them for long periods is Tag Heuer. Every time a new model comes out, it usually appeals to be from a design standpoint and I decide that if I ever find one for a good deal I will buy it. Quite often I do, but then its a Catch and Release, and I am back to zero Tag Heuers in my collection.
Same is the story with this Caliber S. Liked it a lot, but its just not my kind of watch. Perhaps its the branding? Perhaps its the fact that its too pedestrian for this snobby watch collector. Granted I'm happy to wear Breitling and Rolex, so I couldn't be that snobby.
Anyway, back to the TAG Heuer Caliber S:
As you can see, the one I picked up is a beautiful blue dialed example, complete with the applied semi-circle multi-purpose subdials. I really like the new applied dial accents that TAG has started to use in the last few years such as the Geneve-Striped examples on the Grand Carrera watches. Like all TAG Watches, and nearly every other high-end watch brands, the case is milled from a solid block of 316L Stainless Steel.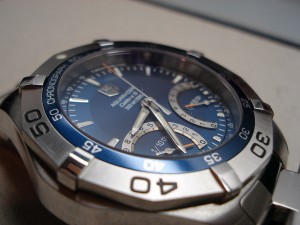 Those subdials are responsible for telling the date and the 100 of a second timing when in Chrongraph mode. Additionally, they also allow you to set the perpetual calendar that the watch has. This Hybrid "mechaquartz" movement from TAG Heuer is quite remarkable. It contains as many parts as most Automatic movements, in fact.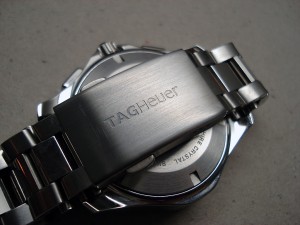 Unlike its younger brother, the Aquaracer Regatta, this Aquaracer has the push-button released bracelet clasp as opposed to the cheaper fliplock clasp. The larger 43mm diameter case is also much more impressive than the 41mm on the Regatta model.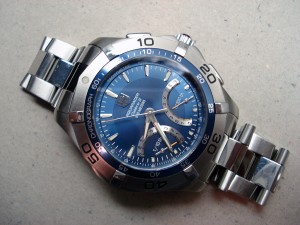 Overall a great-looking watch that can be had for a song on some of the watch forums due to TAG Heuer's somewhat tarnished image, especially with their Quartz watches. Since this watch is essentially a quartz watch, it does not maintain its value nearly as well as it's Automatic counterparts, and can often be picked up for 1/3 of retail!
Word to the wise: Do not buy quartz watches new!