Tue 13 Jul 2010
While most automobile brands that associate themselves with watch brands tend to be exclusive in their partnerships, Mercedes seems to suprise with every new watch venture they embark on. Some of the brands that Mercedes has associated themselves with: IWC, Graham, Tag Heuer, Fabien Cacheux, Ulysse Nardin, and their own Brand created with Tourneau. There are very possibly others that I have missed too!
Most recently is the addition of Graham to the mix to celebrate the Mercedes GP Petronas Formula 1 Team. The Mercedes watch they introduced is kind of ugly in my opinion. Designed more in the style of Graham than Mercedes, and features lots of discord with the mix of design elements making a watch that is overall not too tasteful.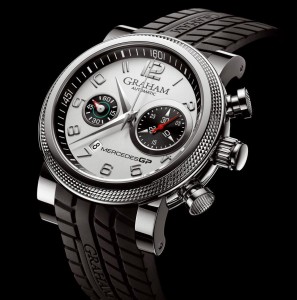 While Mercedes has chosen to associate themselves with so many brands, they have for the most part made tasteful watches. However, unlike Ferrari by Panerai and Breitling for Bentley, the watches have very little association with each other.
Personally, I think the most successful and tasteful Automobile and Watch team-ups would be Breitling for Bentley and Jaeger LeCoultre and Aston Martin. The most Epic Fail Automobile Watch brand would be Tonino Lamborghini. Why would you license your brand out to a company that cannot market your product properly? Didn't the 80's and 90's teach companies anything about licensing your brand – now we see Tonino Lamborghini products fill the shelves in discount stores and ebay.
Here is a gallery of some of the Mercedes collaboration watches out there:
4 Responses to "Mercedes Flirts with Watch Brands!"
Leave a Reply