Mon 17 Jul 2017
Been a while since I posted a review.. been very busy with work but have still picked up a few pieces that I should have done some write-ups on. This is a watch a picked up some time ago but just never had the time to post… its a very sweet watch. I keep saying I feel like James Bond when I wear it…. It was introduced around the time the movie Spectre came out, and a Limited Edition Bond version was released with it, featuring a textile Nato strap.. very cool. This one is on leather but also came with the bracelet. The case measures a very nice 41mm in diameter, and a very healthy 14.65mm thick – perfect dimensions, IMO.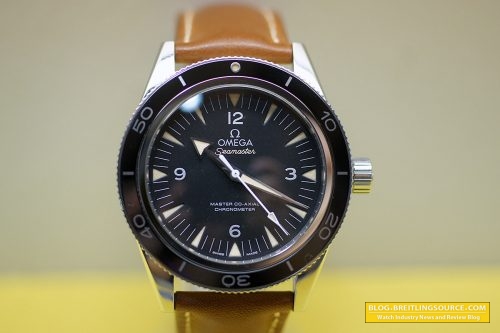 The dial is a matte black with antique lume indices that are inset into the dial. The indices are entirely made up of luminous material, there is no metal or anything. The watch is a re-issue of 1957 Seamaster 300, which you can see a neat comparison of the two side by side that Omega does on their marketing page whenever they re-issue vintage pieces. This piece features the Liquidmetal® ceramic bezel. This technology allows Omega to embed metal numerals into the ceramic bezel – the special metal fuses seamlessly with the Ceramic, and is harder than stainless steel.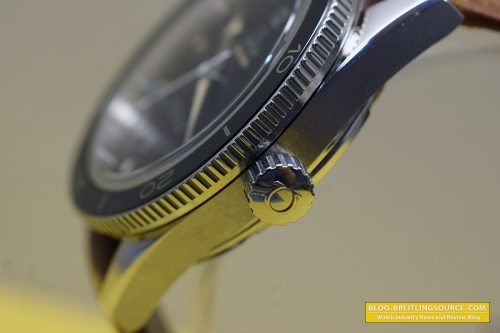 Here's a shot of the crown side of the case, with Omega's characteristic brushed sides which continue on this Seamaster as well. As many of you know, this is one of those features that looks great, but the watch polishing place always charges extra to do it because its not as easy to touch up! The bezel has some grooves in it, making it much easier to turn than the regular Seamaster 300m Diver. The crown actually features matching sized grooves and gives the crown sort of a cog-like relationship with the bezel.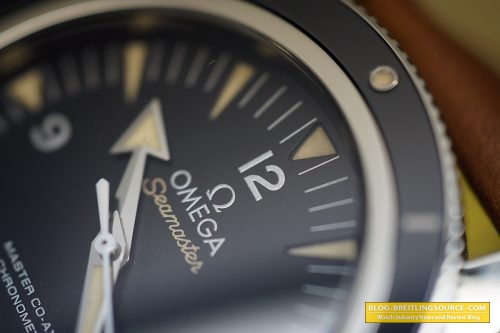 Tried to score a nice macro beauty shot of the dial, but the depth of field is a bit small.. still looks good though. The sapphire crystal is slightly curved and has anti-reflective coating inside only, and not on the outside. Usually this means you won't see the blue tint that is on the crystal, but the crystal isn't quite as anti-reflective as if it were on both sides. You can see the inset indices really well here, and what's also pretty cool is while the antique lume looks sort of yellow in the light, it glows a neon blue in the dark. I forgot to take a lume-shot, but they are readily available on Google image search as well as Omega's marketing page. Of note, the minute hand and lume-dot on the bezel are green lume, not blue lume like the rest of the watch.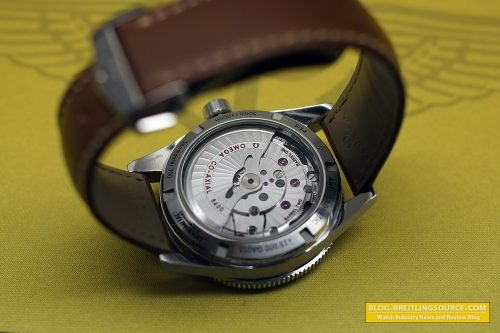 The beautiful exhibition case back shows off the fantastic Omega Calibre 8400 that is the soul of the watch. This spectacular movement features Omega's Co-Axial escapement, anti-magentic properties up to 15,000 gauss and two barrels providing up to 60hrs of power reserve. It is also a certified chronometer, like most of Omega's movements. The movement rotor and bridges are finished simply, but nicely. I always like exhibition case backs, and am very happy that this one provides a nice wide view of the whole movement.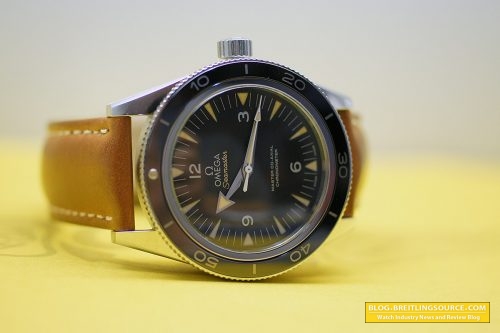 In conclusion, I am really happy with this timepiece. This is a great piece of Omega History, modernized for our hipster generation. I love the retro look of the 1957 re-issue, but with the new in-house Omega 8400 movement, ceramic bezel with Liquidmetal® numerals, and awesome anique lume that glows neon blue. Its just such a successful merging of old & new. Highly recommend this if it suits your tastes!
General Specs:
Case Diameter: 41mm
Case Thickness: 14.65mm
Material: Stainless Steel
Movement: Omega 8400
Power Reserve: 60 hours
Water Resistance: 300m
3 Responses to "Omega Seamaster 300 Master Co-Axial Chronometer Watch Review"
Omega Seamaster 300 Master Co-Axial Chronometer Watch Review - Wristwatch News Says:
July 17th, 2017 at 4:51 pm

[…] By The Breitling Source […]

Ronald Mckim Says:
August 9th, 2017 at 1:37 pm

Wow that's awesome. The markings on the back of the case are an excellent touch too.

The Breitling Source Says:
August 10th, 2017 at 10:08 am

Indeed. The awesomeist.
Leave a Reply