Wed 16 Mar 2016
Unlike many other Watch companies out there, Breitling continues to focus on the ultra-large watch market, and why not – this is one segment of the market where they tend to dominate. And what better watch to launch this huge 50mm watch model with than the Avenger line? This new watch, the Breitling Avenger Hurricane, features many new technologies from Breitling, and what better time to announce it than in time for Baselworld 2016.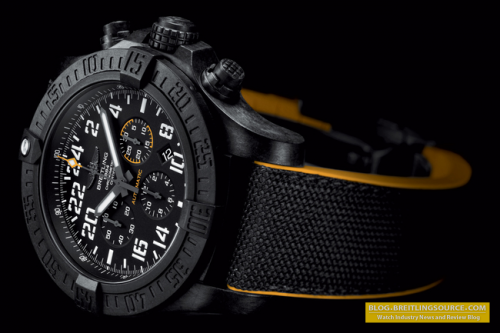 Featuring a Breitlight® case, this makes the 50mm watch significantly lighter than a titanium or steel watch, so its not as heavy as it would seem. To me it looks and sounds a lot like the "forged carbon" that AP uses in the Royal Oak Offshore. This is what Breitling has to say about Breitlight®:
Extreme performance, through the innovative use of Breitlight®, a world-first achievement on a watch case. 3.3 times lighter than titanium and 5.8 times lighter than steel, but significantly harder, this exclusive high-tech material boasts a number of qualities: exceptional resistance to scratches, traction and corrosion, anti-magnetic, thermal stability, anti-allergic properties – as well as a touch that is warmer than metal and a slightly mottled effect accentuating the originality of the design.
The watch also features the new in-house B12 movement, which is a 24hr Chronograph, modeled after the Original Caliber 12 which features the 24hr manual winding lemania based movement. This new B12 is automatic, however.
Video:

From Breitling:
The superlative-charged Breitling
It immediately flaunts a standout 50 mm diameter. It revolutionizes watchmaking with its ultra-sturdy and ultra-light case made in a futuristic material named Breitlight®. It surprises observers with its Manufacture Breitling movement equipped with a 24-hour military-type display. Close-up on a Breitling built for extremes.
One Response to "Breitling Avenger Hurricane Massive 50mm Case!"
Breitling Avenger Hurricane Massive 50mm Case! - Wristwatch News Says:
March 16th, 2016 at 7:08 pm

[…] By The Breitling Source […]
Leave a Reply