Fri 28 Aug 2015
Barrington Watch Winders is a British watch winder company founded in 2009 with the mandate of bringing an affordable watch winder to the masses that also looks good. I've handled several different brands of watch winders, and have noticed that there is a huge gap in the quality of entry level winders and good winders, with nothing in-between. Barrington seeks to fill that gap.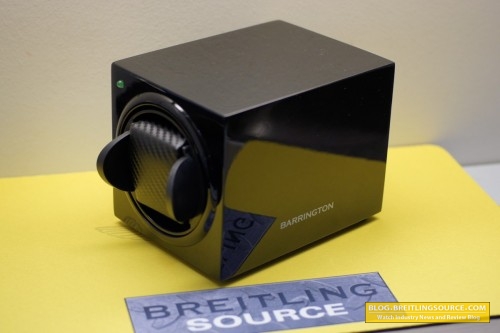 The Barrington Single watch winder comes in a handsome high-gloss lacquered wood case, and in a variety of colors. I selected the Black one since it doesn't stand out too much and won't offend anyone, though some of their more colorful options do look kind of cool. Given their price, they would seem to directly compete with brands like Wolf Designs and Spin-R – at least their entry models.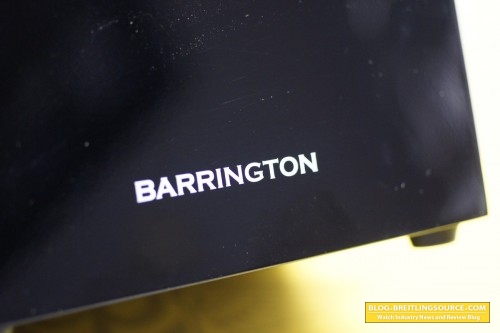 The Barrington logo is printed on the side of the case, and is nice and low-key, which is nice. Most of my other winders barely even have a visible logo which is nice and classy. Don't need it printed all over like Louis Vuitton monogram, do we? 🙂 The watch winder is also lighter than it looks to me. The wood is not particularly thick, so it seems light. It also seems quite large considering there is only AA batteries inside it. Most logic PCBs I have seen for watch winders are quite small, so I'm not sure if the size was arbitrary or determined by necessity such as counter-balancing weight of the watch.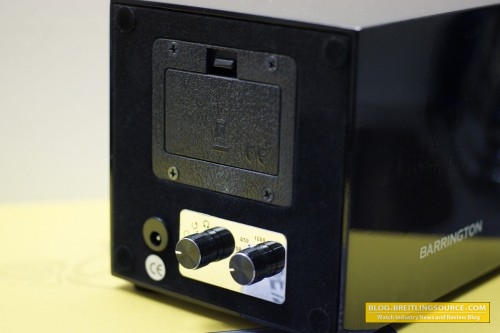 The back is pretty straightforward as you can see. There is a battery compartment at the top where you can insert two AA batteries and run the winder without an AC adapter. The battery life can depend on various conditions such as the weight of the watch, the TPD (times per day) setting and the type of batteries, but I am told that you can expect a good pair of batteries to last a month under normal settings and watch weights. This isn't spectacular but not bad for a couple of AA batteries, and it is certainly nice to have the option of going wireless.
I'm also told that it would be prudent to remove the batteries if you are using the AC adapter since the batteries may have slight parasitic draw while it is plugged in between cycles. You also have a choice of AC Adapter as well for European and North American buyers.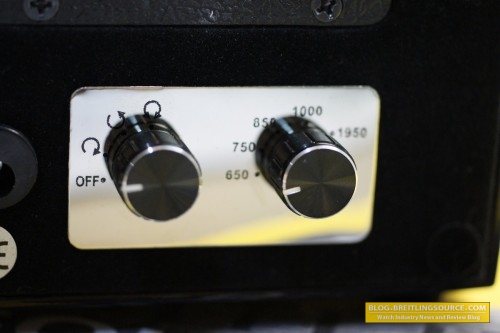 Here's where this winder shines above the rest in terms of features: The control panel. The Barrington Single Watch winder provides more programmable options than most winders in this price range and even above. Many winders will give only a single option of TPD or Direction, or sometimes they only offer a few choices, but Barrington goes the extra mile here to make sure that you can really tweak your winding experience. They offer TPD from 650 all the way to 1950, and clockwise, counter-clockwise as well as both for winding. This is a very nice set of features. They are adjusted by turning the click knobs that are mounted on a nice mirrored plate, which is quite attractive.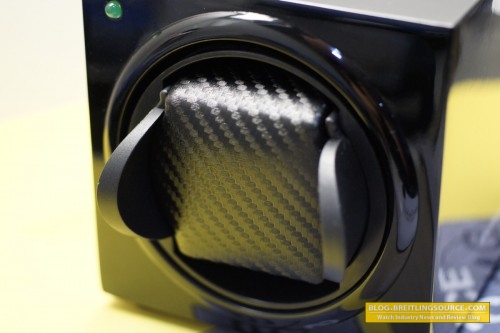 In action, the winder is whisper quiet, probably among the quietest winders I've owned, and the LED only goes on when it is winding and turns off between cycles. I personally would have designed the LED to be constantly on when it is turned on, since you can always tell that it is winding by simply looking at the winder itself, but you can't tell if its on between cycles without looking at the back, but that's just one man's opinion!
The cushion snaps into place using two flared plastic handles, which is similar to several other winders out there. The fabric used on the cushion is a faux carbon fiber, which looks modern and matches the design of the winders well IMO.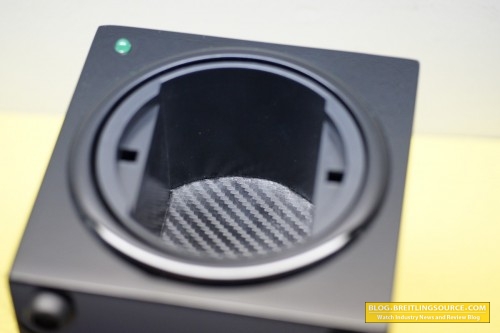 Just wanted to show that they used the faux carbon fiber fabric inside the winder as well, which is sort of a nice touch.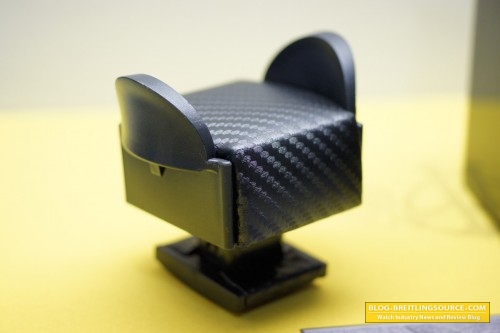 Here is the shot of the cushion that inserts into the winder. As you can see it has a spring loaded backpiece that compresses and clicks in if you are on the smaller side of the size spectrum. This is the normal sized model, and not the small cushion version. I didn't measure my wrists before ordering but I probably should have as this model is ever so slightly too big for my watches and while they will still close around the cushion, it is VERY tight. I have a 17.5cm wrist (6.75″) so that could be used as a way to determine which winder size you need. Their website states 20.5cm as the smallest size for the regular sized winders so I am off by 3cm!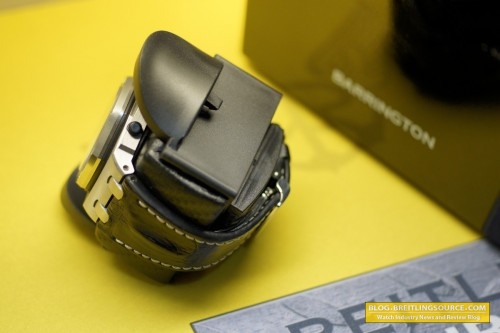 Here is the cushion with my AP Royal Oak on it, super tight! But you can see how it fits. I could always adjust the deployant strap to a larger hole in order to make it fit the winder better, but this can't be done easily with a bracelet watch. I tested out the winder with a variety of watches, some quite heavy and it seems to do very well. The motor doesn't seems to strain, and its been quiet for the couple days I have had it running which is a good sign. I have seen some cheap watch winders work great right in the beginning especially if no watch is in it, and then they start grinding and struggling when you put something heavy like a Panerai in it… speaking of which: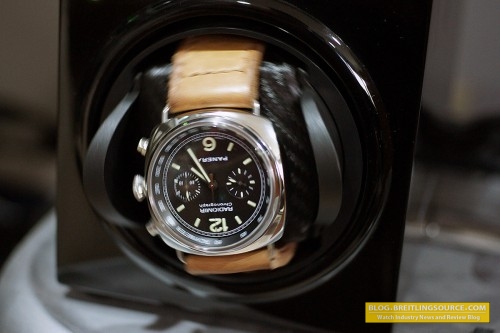 There she is in action with my Panerai PAM288 in it, doing a fine job of winding it. In summary, I think this is a solid buy especially if you're looking for a wood finished winder in this price range, since there are very few, if any, wood finished winders in this price range. I can't comment on the longevity of the winder, but Barrington claims ultra-quiet Japanese motors. I can attest to the ultra-quiet part and the Japanese make very good electric motors. The cushion isn't my favourite, and I generally prefer fully soft cushions like those used in the Orbita Sparta winders, but it seems to do a decent job and has a wide range of fit. Keep in mind that you might need the small cushion winder if you have a wrist under 7″ around. I really like the multitude of programming options and the option to use AA batteries as well as AC power.
Specs:
· Measures just 11cm x 11cm x 15cm
· Can be operated either by AC mains or two AA batteries.
· Ultra-quiet Japanese motor
· Multiple rotation settings: clockwise, counterclockwise or alternating
· Multiple Turns Per day (TPD) settings from 650, 750, 850 or 1,000 to suit any weight of watch
· Adjustable cushion is suitable for watches with a strap/bracelet circumference of 20.5cm to 24cm (for watches with a smaller band see our Small Cushion winder here)
· LED light when operating
· Comes with British 3 pin power adapter as standard (European or US available on request)
MSRP: £99
See the complete line of Barrington single watch winders
3 Responses to "Barrington Single Watch Winder Review"
Barrington Single Watch Winder Review - Wristwatch News Says:
August 28th, 2015 at 9:50 pm

[…] By The Breitling Source […]

The Breitling Watch Blog » Barrington Single Watch Winder Video Review Says:
October 13th, 2015 at 5:52 pm

[…] is the follow-up video review to the original Barrington Watch Winder Review, so you guys can see the watch winder in action. Its a very nicely made piece of kit with great […]

Barrington Single Watch Winder Video Review – Planet Watches Says:
January 29th, 2016 at 6:25 am

[…] is the follow-up video review to the original Barrington Watch Winder Review, so you guys can see the watch winder in action. Its a very nicely made piece of kit with great […]
Leave a Reply