Mon 27 Oct 2014
Britain's Nigel Lamb won the 2014 Red Bull Air Race World Championship on Sunday, October 26th with a dramatic victory under pressure at the season finale in Spielberg, Austria. With a fourth place finish in front of a sell-out crowd of 35,000 spectators, Austria's Hannes Arch ends up second in the overall ranking.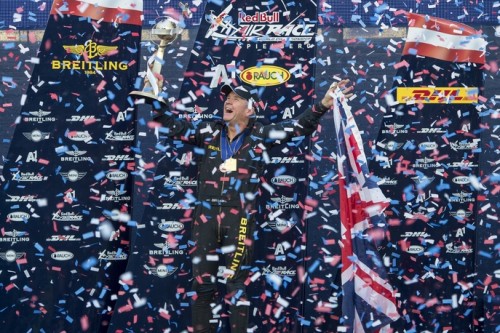 Although, the French pilot Nicolas Ivanoff won the race in the Austrian Alps on a sunny afternoon for his second victory this season, the 9 points that Lamb won with his fifth consecutive second place was enough to stave off a powerful challenge from local hero Arch. The British pilot secured first place with a grand total of 62 points from the eight-race world championship, which was the most exciting in the high-speed, low-altitude sport's history.
"It's just amazing," said Lamb, who came from far behind in the World Championship with a victory in the third race of the season in Malaysia and then got five straight second place finishes to overtake Arch and Bonhomme in the standings.
"I have to say my race did not go as planned, my times were not fantastic through the week. It was not a good day today in racing terms, there was never a time I thought I had the Championship secured, I had a good team giving me lots of inputs, the aircraft felt good and I felt very well supported. Also from my family they are very involved but Max especially, doing all the race analysis. It is very difficult having one of your children telling you what to do, but he found a good way of not trying to change my flying but just seeing the small adjustments, which make the maximum differences."
"Next year will be very challenging since nine pilots have been on the podium out of twelve, next year fourteen pilots. But I still have a good team, good plane, and hope to maintain the consistency, it really is teamwork that makes the success at the end of the season."
Cheered on by the boisterous sell-out home crowd, Arch had been unstoppable all weekend. Flying last in the Final Four, Arch struggled early on the undulating course with its challenging 65-meter change in elevation and, forced to take risks on the second lap in an all-or-nothing bid to win the title, got hit with a two-second penalty for flying through one of the Air Gates with his wings not level, which dropped him to fourth place. Arch's raw time of 57.839 would have been good enough for second place behind Ivanoff's 57.468 but not enough to catch Lamb, who would have dropped to third in the race with his time of 58.052 but still have beaten Arch in the World Championship by a score of 60-57.
Spielberg Results: 1. Nicolas Ivanoff (FRA), 2. Nigel Lamb (GBR), 3. Martin Sonka (CZE), 4. Hannes Arch (AUT), 5. Paul Bonhomme (GBR), 6. Michael Goulian (USA), 7. Kirby Chambliss (USA), 8. Pete McLeod (CAN), 9. Yoshihide Muroya (JPN), 10. Matt Hall (AUS), 11. Matthias Dolderer (GER), 12. Peter Besenyei (HUN)
World Championship (final): 1. Nigel Lamb (GBR) 62 points, 2. Hannes Arch (AUT) 53, 3. Paul Bonhomme (GBR) 51, 4. Nicolas Ivanoff (FRA) 42, 5. Pete McLeod (CAN) 38, 6. Matt Hall (AUS) 33, 7. Matthias Dolderer (GER) 21, 8. Martin Sonka (CZE) 18, 9. Yoshihide Muroya (JPN) 10, 10. Kirby Chambliss (USA) 7, 11. Peter Besenyei (HUN) 6, 12. Michael Goulian (USA) 3
Leave a Reply