Thu 5 Sep 2013
It was only November of last year that David Beckham was named the face of Breitling Transocean Line, and now he is the face of the Breitling for Bentley line. One of Brittain's most recognizable and stylish celebrities, he does appear to be a good fit for the Breitling for Bentley Brand. He certainly exudes all the style and attitude that one would associate with the Bentley Brand. In fact, he looks like 007 with extra attitude in this new photoshoot – Daniel Craig watch out.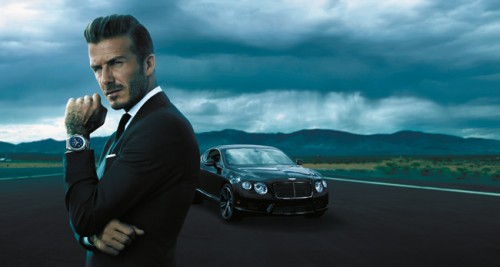 The British celebrity is the watch brand's ambassador across all continents and stars in its new advertising campaign through a powerful visual reflecting this world of its own.
Since its launch in 2003, the collection of Breitling for Bentley chronographs has matched exceptional mechanisms with quintessential British style. The essence of Britain. Made in Switzerland by Breitling. No one was better placed to embody this inimitable blend of elegance and luxury, originality and true class than David Beckham, the icon who has become the ultimate symbol of British style.
The star notably appears in the visual of the new advert shot in the Californian desert by Anthony Mandler. This dark, original and striking portrait reflects the entire Breitling for Bentley spirit. "My aim was to make Beckham a hero: a strong, masculine figure", comments the famous American photographer. "I wanted to take the strongest elements of Breitling communication and associate them with the strongest aspects of David's image and personality."
Destined for the long haul, the partnership between Breitling for Bentley and David Beckham is based on a long-established mutual admiration. "I was among the first to acquire a Breitling for Bentley chronograph", says Beckham. "I love the combination of a high-performance 'engine' reflecting Swiss excellence and a powerful design. I have been a long time admirer of Breitling and its heritage."
2 Responses to "David Beckham is the Face of Breitling for Bentley"
Marko Lopicic Says:
September 11th, 2013 at 11:00 am

I have bought a Breitling Watch AB0110 – Chronomat 01. From the very beginning once the clock was winded and adjusted it was running fast and every 15 days it was running fast some 5 minutes. The watch was returned to the local Breitling retailer in Montenegro and the had sent it for calibration at the main Service in Belgrade. After calibration the watch was fully winded and adjusted and it was also running 5 minutes ahead for the period of 15 days. After the second calibration and service the watch is now running some 4 minutes slow for the period of 20 days.
I urge everyone not to buy Breitling watches as they are not good value for money and if the watch is faulty like in my case you will not get the right customer treatment. I have to sue the local retailer in order to get a replacement. I cant believe that I could have all these problems with a "renowned" watch manufacturer such as Breitling. My advice stay away from Breitling. Please feel free to contact me about my ordeal +38268234565.

The Breitling Source Says:
September 11th, 2013 at 11:08 am

Wow Marko… do you really need to SPAM my site with 10+ comments on EVERY single topic because you have a beef with Breitling? Grow up.
Leave a Reply