Wed 19 Jun 2013
Ancon Watches, a new brand which appears to be based out of Malaysia or somewhere in Asia, launched late 2012 with little online presence and a fairly large dealer network in Asia especially. Unlike most grassroots boutique brands that have launched in the last few years, Ancon didn't do it with lots of online support and collector feedback. They took a lot of the styles that have made recent brands popular like Bronze Cases and Chunky Dive watch styling. They currently have three models, all of which are quite similar using the same overall case with some changes to dial and crown guards/crowns. The Domain ownership information is hidden for their domain, which makes you wonder. Companies like Rolex and Breitling do not hide their Domain Ownership information, not even companies like Helson hide their Chinese roots in their domain registration.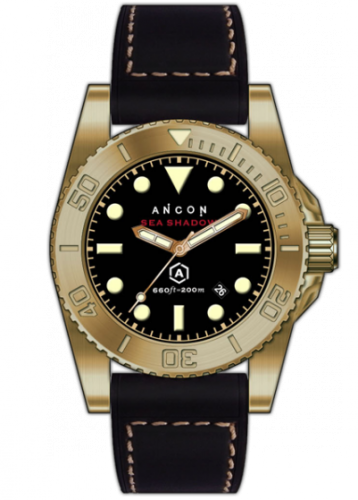 This is the first watch released by Ancon, the Sea Shadow. A very nice piece, and priced decently at $700 with free shipping. The watches are most likely made and assembled in Asia, and feature Miyota 8215 movements. The case measures 45mm in diameter and 15.5mm thick, so this is quite the beast of a watch. The overall specs are good and the styling is good, but I just can't get around the smoke and mirrors about hiding the origin of the company. Clicking on "about us" takes you to some info about how their watches are named after historical boats, and talks more about the watches themselves… it really has nothing a typical "about us" page would have. I understand that Asian watch companies are always trying to sound like they are European, but the more vague they are, the more it looks like they're trying to hide something. Most luxury watch buyers are quite intellligent.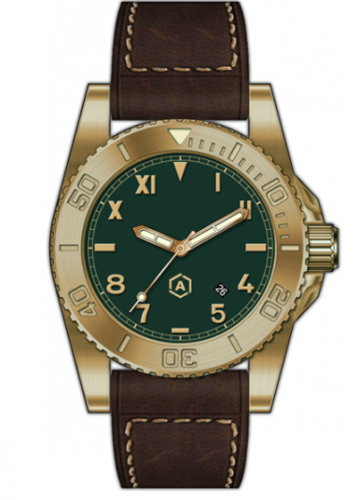 This is the Sea Shadow California, with the California style dial in the same case as the regular watch. Nice pieces, and for the money, they seem fairly reasonable compared to some other watches out there. I personally wouldn't fork out $700 for a Miyota movement, no matter how cool the Bronze case is, but I can see many people buying these. There have been reports that they have already been popping up second hand in Asia in the last few months, so people are buying them in large enough quantities that they are being sold again. Either way, they're a nice looking watch, but I personally wouldn't be interested unless they come in around $400.
Check out their third and latest model, the Magnus, as well as some more detailed information on their site here:
http://www.anconwatches.com/
Leave a Reply