Tue 5 Feb 2013
Breitling Announces New Partnership with Acclaimed Professional Golfer Ernie Els in 2013
Sounds like this is more than the usual ambassador relationship, with Ernie representing Breitling or more than one level. Almost like the Alicia Keys-Blackberry relationship.
As part of the partnership, Els will participate in various events on behalf of Breitling, where he will interact directly with Breitling enthusiasts in key markets. In addition to special events and appearances, Breitling will also create a special limited edition Breitling Chronomat 44, available in April, which is Autism Awareness month. A percentage of the proceeds from the limited edition watch will go to the Els for Autism Foundation, with the organization's logo etched on the back of the caseback.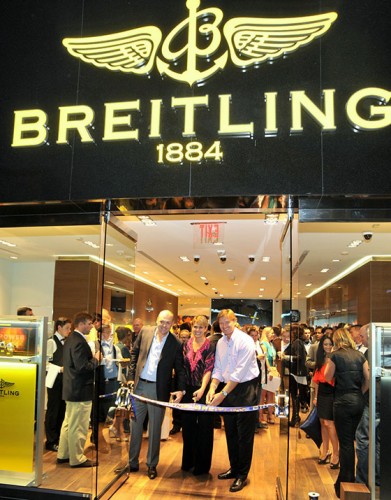 "I've always had a passion for watches," said Els, who at age 43 has 69 professional career victories to his name. "Breitling is an iconic brand I've long admired. They create beautifully crafted and precise timepieces I know I'm going to enjoy wearing. With my love of flying and Breitling's affinity and connection with the history of aviation, this feels like the perfect partnership, one of genuine shared values. It's a pleasure to be associated with the company and I look forward to working with everyone on the team."
Els is one of the most prolific golfers of his generation, winning four Major Championships, two World Golf Championships and a record seven World Matchplay titles. He was inducted into the World Golf Hall of Fame in 2011 and the South African Golf Hall of Fame in 2009.
In addition to his outstanding ability on the golf course, Els also prides himself on creating several charitable organizations to help serve children around the globe. The Ernie Els & Fancourt Foundation was established in 1999 to identify young talented golfers, predominantly from families of limited resources, and to provide them with educational assistance and playing opportunities. The Els for Autism Foundation was established in 2009 to help young individuals and families on the autism spectrum and to create the Els Center of Excellence, which will make available the very best practices in education and therapy with a global reach.
"Breitling is honored to partner with Ernie Els in 2013," said Breitling USA President Thierry Prissert. "We have a strong admiration for Ernie's efforts, not only on the golf course, but also his passion for philanthropy. We look forward to continuing our relationship with Ernie for many years to come."
One Response to "Ernie Els Partners with Breitling as Ambassador"
The Breitling Watch Blog » Breitling L.E. Chronomat for Autism Awareness Month Ernie Els Says:
March 21st, 2013 at 11:02 am

[…] has announced a Chronomat Limited Edition in support of Autism Awareness Month, with the support of Ernie Els who became a Breitling Ambassador […]
Leave a Reply