Fri 4 Jan 2013
Happy New Year Everyone! After a short break to celebrate the holiday season, I'm back with a little review of a cool strap from NuboStraps.
Just got in my new Nubo Straps Bullet strap not too long ago and will be posting a review in the PaneraiSource Aftermarket Panerai Straps section soon, but I couldn't wait to show you all how cool it is!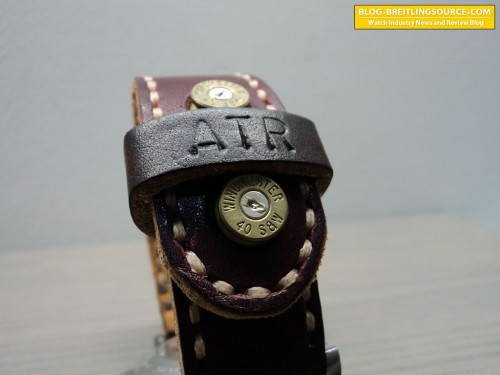 The ATR stamped on the keeper stands for "At the Ready", symbolizing the spirit of preparedness that one should have in any life situation. Norman from NuboStraps is a fan of survival gear and his enthusiasm shows in this great strap. It is definately the most innovative use of shell casings that I have ever seen on a strap.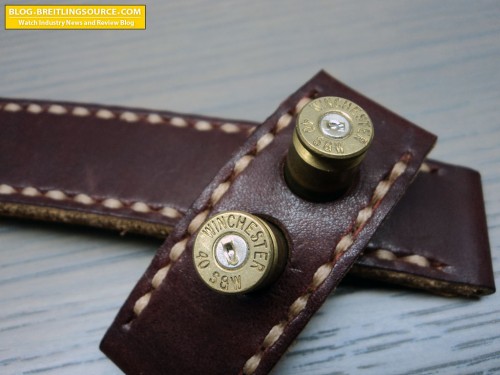 The shells he mounted were .40 Caliber S&W made by Winchester, which have a nice look on them. He mounted a total of 4 casings on the strap, two which are decorative, and two used to hold the strap on. The strap is sized for a single wrist size, and cannot be adjusted so these straps need to be custom made to your wrist size.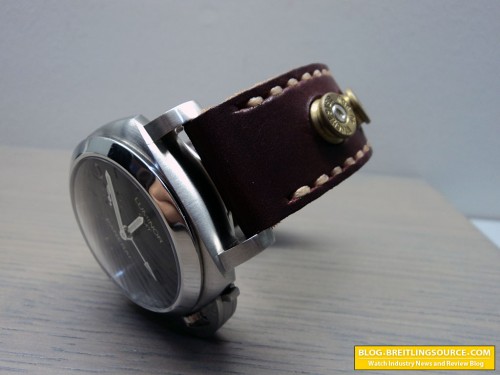 Overall it makes my Panerai PAM320 look like one badass watch, though not suitable for all occasions. Good to wear for a day at the range or out in the bush. Very nice job, and I'll review the watch in more detail later!
One Response to "Bullet Strap for Panerai by Nubo Straps"
Niels Anderson Says:
January 9th, 2013 at 3:44 am

Nice strap there, I love it. But as you said, unfortunately it is not suitable for all events.
Leave a Reply