Fri 24 Aug 2012
What is your favourite Breitling of all time? We have selected 64 candidates, and now there is a battle down to the bitter end. See this post for more details and to vote on BreitlingSource.com forums. You will need join the forum account to vote if you aren't already registered. Its free!
http://breitlingsource.com/phpBB2/viewtopic.php?f=1&t=42096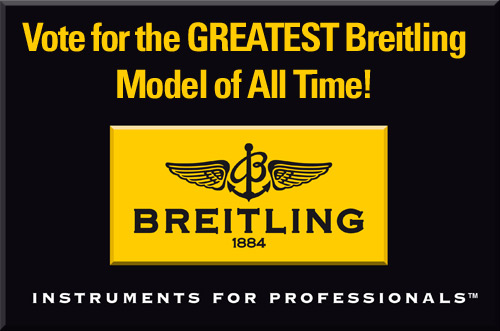 Here is a list of the match-ups for the first round:
Top Time 2002 vs. SuperOcean Heritage Chronograph
Chrono Avenger M1 vs. Skyracer
Colt Automatic 17380 vs. Top Time 810
Avenger Seawolf Ti vs. Avenger Code Yellow LE
Chronospace 56012 vs. SuperOcean Steelfish X-Large / SuperOcean Steelfish (all 44mm versions)
Premier vs. Emergency SuperQuartz
Bentley Le Mans vs. Twin Sixty
Bentley Mulliner Tourbillon vs. Chrono SuperOcean 13340
Blackbird Blacksteel vs. Navitimer Fighters
Crosswind Special LE vs. Bentley GT Ice
Chronomat 769 vs. Datora 784 / 785
Hercules vs. SuperOcean 2105
Chronomat Evolution vs. Chronomat Calibre 13
Crosswind vs. Blackbird 13050 / 13050.1
Spatiographe vs. Long Playing 7104
Montbrillant Olympus vs. TransOcean Chronograph b0152
B-1 SuperQuartz vs. Chrono Avenger
Emergency Mission vs. Blackbird 13353
Old Navitimer Mecanique vs. Navitimer 1461 LE (2011) 19370
Pluton 57038 vs. Navitimer Olympus
Chrono-matic 2114 vs. SuperOcean Heritage 46
Old Navitimer II vs. Aerospace 80360 (Navitimer)
TransOcean Chronograph Unitime vs. 765CP (Co-Pilot)
Navitimer 806 vs. Chronomat B01
Blackbird 44359 vs. Mark VI Complications 19
Chronomat 13352 vs. Crosswind Racing
Chrono Avenger Rattrapante LE vs. Chrono-matic 24
Serie Speciale Lemania Cosmonaute DB vs. SuperOcean 17360
Headwind vs. Navitimer World
Cockpit vs. SuperOcean Heritage Chronograph 125th Anniversary
Montbrillant 1461 Jours vs. Montbrillant Datora
Unitime 260 vs. Navitimer 01
2 Responses to "What's the Greatest Breitling of All Time?"
PapaWoodie Says:
August 26th, 2012 at 11:56 am

No need to look, or even consider which one is the best….
Clearly the there is only one ultimate watch, one greatest of all time….

And, unequivocally, it is the superb
Breitling for Bentley Mulliner Tourbillon !

Is there any other watch that even comes close to the beauty of this one in a yellow gold case with champagne dial?

The Breitling Source Says:
August 26th, 2012 at 10:23 pm

Interestingly, while I voted for it in the showdown, I think it was losing!
Leave a Reply