Mon 6 Aug 2012
Christopher Ward has released a Chronograph watch that actually has me quite interested. I've always found that CW is an interesting company with watches that come in at a very attractive price point, but have never really been particular attracted to the combination of design and components that they have used in the past until now. Christopher Ward is a young company, founded in 2005 and has been creating value-oriented mechanical watches for the past several years.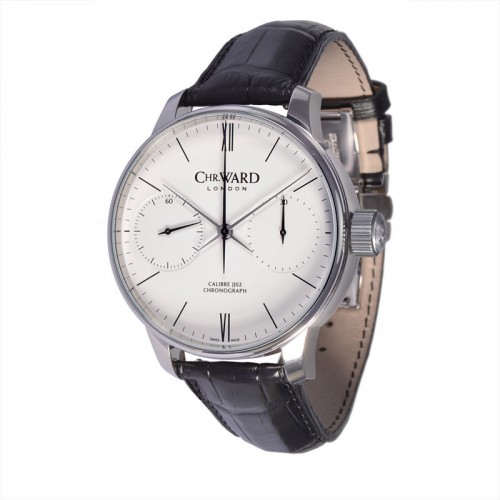 The C900 features a heavily modified and extended Unitas 6497 base movement that has been updated with a Single pusher chronograph complication and dubbed the JJ02, named after the movement's designer, Johannes Jahnke.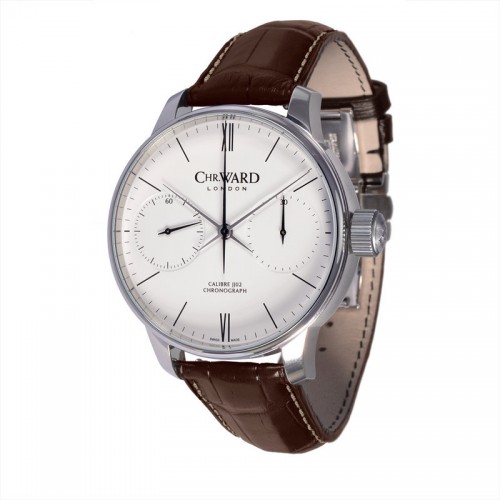 The C900 Single Pusher Chronograph is not cheap at £2450, but seems to be a great value given the features of the watch. It will be released in a limited edition of 250 pieces, all hand assembled by either Jahnke or his assistant Frank Stelzer. No other information was provided as to size (A CW Forum Member has provided Diameter to be 43mm as seen below in the comments) and water resistance but I would assume fairly large size given the base Unitas movement and water resistance must be decent as well since the gasket system on the crown is highlighted.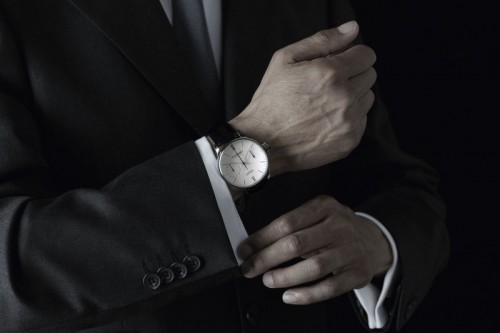 From Christopher Ward:
"With its rare complication and bespoke movement, Christopher Ward's C900 Single Pusher Chronograph is one of the most significant watches to be launched by a British watchmaker this year. The automatic chronograph which can be started, stopped and reset with a single 'pusher', or button, represents unrivalled value at £2,450. Available to pre-order from the end of August for mid-October availability, the C900 will allow many watch enthusiasts to buy into a world that they could previously only have dreamt about.
The timeless and understated dial of the C900, with its continuous seconds sub-dial and 30-minute totaliser, was designed by Christopher Ward in Britain, but it is the extensively developed and adapted Unitas 6497 calibre that is the real star of the show. Watchmaker, Johannes Jahnke, based in Christopher Ward's Swiss atelier, has taken the base movement and turned it into something magnificent.
Right from the start, Jahnke's aim was to create a calibre which would allow customers to see how every part of the watch functioned, through a wide exhibition back. The first step in achieving his vision was to ensure that the main plate and all the connections fitted the base module like a glove. Jahnke then set about introducing a sliding gear and reworking the bridges, the winding mechanism and the centre and second wheels, as well as the swan-neck adjustment system.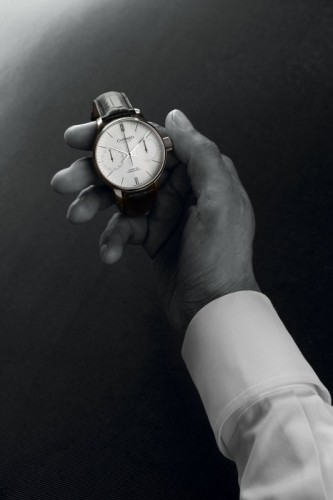 To make so many major mechanical and aesthetic improvements required a mastery of traditional watchmaking skills – which have sadly become increasingly rare. Even among many of the leading luxury watch brands, mass-produced movements have become the accepted standard.
To help him create the new Single Pusher, Jahnke approached Jean Fillon who has worked with chronograph movements ever since the 1940s. Despite an age gap of nearly 60 years the two men struck up a close friendship. Jahnke, affectionately refers to Fillon as 'opi', or 'grandpa', while the older watchmaker delights in how 'JJ' has drawn on his traditional skills to create such an affordable and contemporary chronograph.
For anyone interested in how a purely mechanical device can measure fractions of a second while also keeping time accurately for months on end, the reverse of the C900 provides one of the finest views in the watch world. The C900's exhibition back reveals a masterpiece of clarity and simplicity. Jahnke's JJO2 calibre is supremely elegant, clean and, above all, 'understandable'. It is even possible to see how the sliding gear, clutch and brake allows the chronograph to be controlled by a single pusher, set within the crown.
'The last chronographs I made cost £70,000,' says Jahnke, 'and most of them are probably locked up in a safe somewhere. I have only ever seen one being worn. I'd like more people to get pleasure from my work and understand what I do. Christopher Ward has given me the opportunity to do that. The C900 is a watch which I am hugely proud of, which is also affordable enough to be worn, used and appreciated by a much wider range of customers.'
It is extremely rare for even the most expensive watches to be put together by just one man but that is exactly how each of the 250 limited edition C900s are being assembled – either by Jahnke or his assistant, Frank Stelzer. More than 100 separate jobs and many more parts go into making every watch, and just fitting the hairspring can take 40 minutes – making the price of the C900 all the more remarkable.
Aside from the movement, a vast amount of thought, ingenuity and skill has gone into creating other parts of the C900. For example, the bespoke crown has been designed from scratch in order to overcome the challenge of incorporating the central axis as well as four 'O' rings, which allow the pusher to be depressed while still ensuring the watch remains waterproof.
'The C900 brings the world of complications and the upper end of watchmaking within reach of more people than ever before,' says Chris Ward. 'One day we may produce even more complicated watches but the C900 will always be very special for me. Johannes has accomplished something extraordinary.'"
4 Responses to "Christopher Ward C900 Single Pusher Chronograph"
Leave a Reply