Sat 4 Aug 2012
Shot some nice photos of my Eterna 1935, and figured I would follow up with the video review I posted a ways back with some photos of this great value watch. Eterna has been making fantastic watches for years, in addition to being the company that created most of the previous generation of ETA movements before selling ETA to Swatch.
This Eterna is like most others, great value for dollar on the secondary and liquidation markets such as eBay. The MSRP's are high, but if you're like me, deals can be had on forums as well as on eBay and from luxury watch liquidators.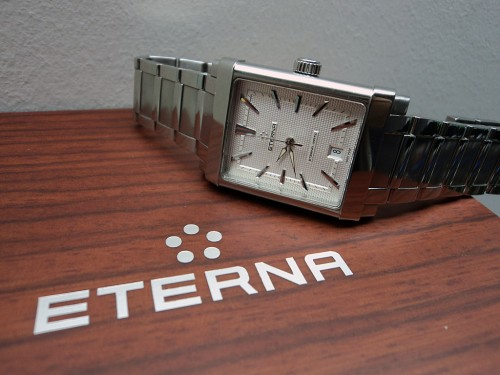 This particular Eterna I picked up from a fellow on Timezone, second hand. I had purchased a watch from him before and this was the second one. I had seen them all over eBay at one time, but never had the chance to pick up one for what I felt was a good price and had the dial and bracelet combination that I was looking for. I was able to get this one and was really happy since the silver Guilloche dial is fantastic, with the polished stick indices really setting the dial off.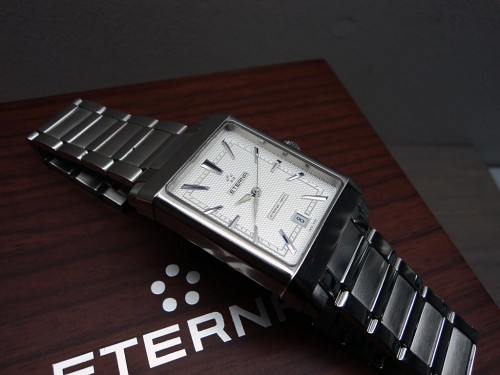 The watch features standard Hours, Minutes Seconds and a Date at 6 o'clock, and the square case measures 29mm x 43mm and is 10mm thick. Sounds small, but its actually not too bad. Very large wearing for what sounds like a 29mm watch. I would probably compare it with most 38-39mm watches for size.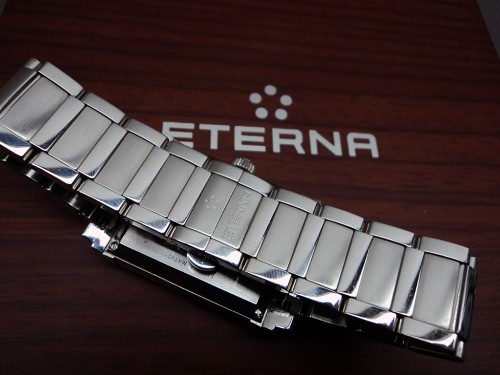 The bracelet is fantastic, and is screw construction, with very good tolerances and fit. Links are two-tone polish and brushed. The clasp is a hidden double butterfly with push button release, and features an Eterna signature on the bracelet section.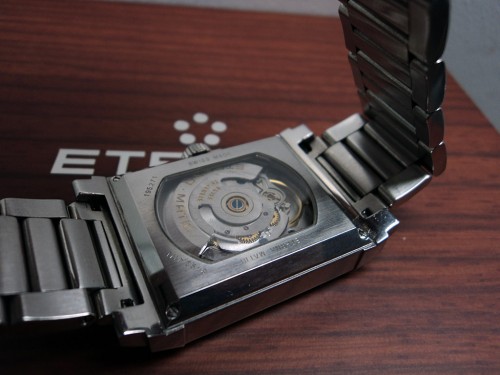 The back is a sapphire crystal exhibition back with a view of the Eterna-matic ETA 2824 movement, with customized Eterna Rotor. The caseback is screwed down giving it a bit of water resistance rated to 30m.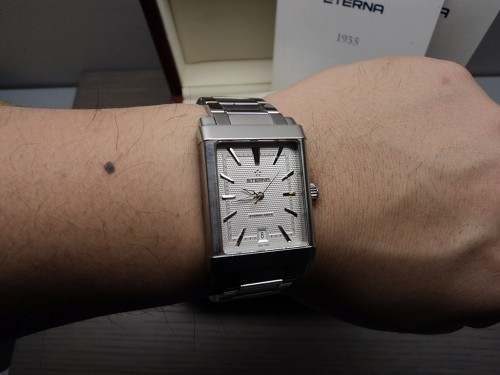 There it is on my 6.75″ wrist, which isn't too bad. The watch looks fantastic with dress shirt and suit and was one of my favourite dress watches for quite a while. Its probably more suited to a dress shirt type of environment as I don't like how it wears with T-shirts. Overall, a beautifully crafted timepiece which is a steal at secondary market prices as most eterna watches are.
Check out the old video post here if you haven't seen it already:
http://blog.breitlingsource.com/2011/07/26/eterna-1935-eterna-matic-watch-video/
Leave a Reply