Wed 20 Jun 2012
Panerai manufactures watches that are all around stunning. This is certainly the case with the Panerai Luminor North Pole GMT. One look at this timepiece and there will be no doubt in your mind that the 44mm watch is a powerful piece of technology that is sophisticated and powerful in its appeal. Your first impression will be right. But Panerai will surprise you further with some incredible features integrated within the watch.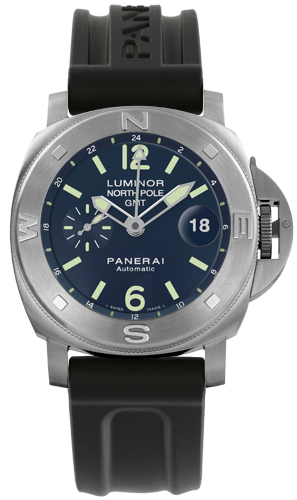 The Panerai Luminor North Pole GMT is the result of the pioneering work of explorer Mike Horn, who along with Borge Ousland, organized an Arctic winter expedition. The thousands of kilometers or ice pose a serious challenge to any explorer. This location between northern Russia and the Arctic is an inhospitable place. Having a device that will guide them through is important. Now, you would think that they might as well take a bulky GPS-like machine with them. Fortunately, powerful features have been fitted in the Panerai watch.
Expect powerful and seamless performance from this watch with its automatic movement. What distinguishes this particular Panerai apart from the other popular Luminor and GMT watches, is that the Luminor North Pole was especially designed to withstand extremely cold conditions. It contains a special type of lubricant that ensures that the watch will work perfectly in the Arctic. It doesn't stop there. Within the wade, the company has created another type of case made from soft iron.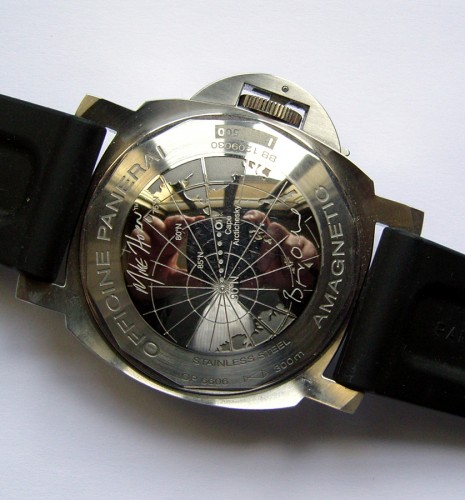 As explorers know, there is a magnetic field in the North Pole. With the additional iron casing inside, the time-telling capabilities of the watch isn't compromised. The screw-down caseback has also been engraved with a route map of the Arctic. This alone makes it worth collecting. Additional features include a rotating bezel that contains four letters: N, S, E, W, representing the four points of the earth.
Despite the technology, innovation, and functionalities included in the Panerai Luminor North Pole GMT, it surprisingly utilizes a practical design. This complements the message that the company wants to convey through this watch that you are entitled to use a special and powerful timepiece for everyday wear. The design also makes it easy for you to observe astrology even during nighttime without any hassles. You won't get lost even in the Arctic Pole if you have this accessory to accompany you.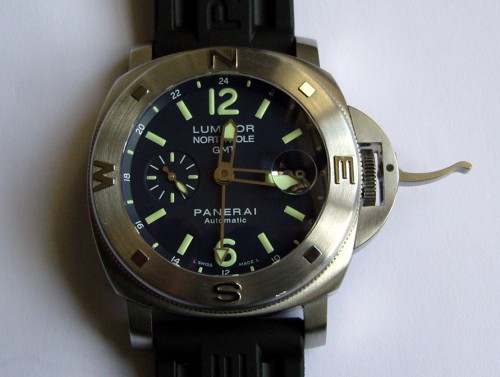 So whether you want to go out exploring or even if you simply want to have a highly sophisticated watch in your collection, the Panerai Luminor North Pole GMT might be right up your alley.
One Response to "Spotlight: Panerai Luminor North Pole GMT"
Panerai Luminor North Pole GMT (PAM 252) Revisited | Perpetuelle.com Watch Blog Says:
June 26th, 2012 at 9:13 am

[…] over at the BreitlingSource blog (and sister site, PaneraiSource), recently took a closer look at the Panerai Luminor North Pole […]
Leave a Reply