Wed 7 Mar 2012
Breitling has announced the replacement for the Chrono Avenger M1, and it is a steel SuperOcean with the same Magentic pusher technology with an added bonus of being water resistant to 2000M named the SuperOcean Chronograph M2000. It has some interesting strap options as well as the new Professional III bracelet.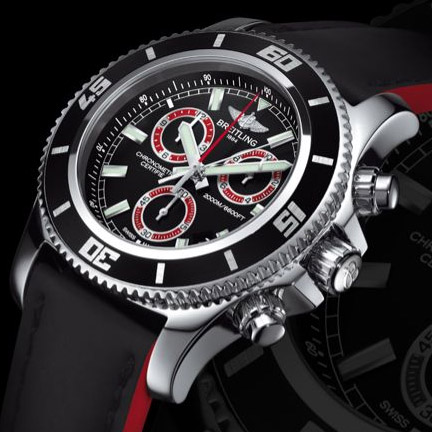 From Breitling:
The first chronograph water-resistant and operational at a depth of 2,000 m. Breitling has created a new champion of abyssal depths, equipped with an exclusive magnetic pushpiece system. Within this patented system, the chronograph controls are operated via the metal of the case. This means that the Superocean Chronograph M2000 may be used in water to the fabulous depth of 2,000 meters (6,600 ft) without any risk of water seeping in. The 4 mm-thick sapphire crystal guarantees exceptional sturdiness, while the original appearance of the black dial is enhanced by red, black, blue or green-ringed counters.
2 Responses to "SuperOcean Chronograph M2000"
Joe Hall Says:
April 10th, 2012 at 1:30 pm

Hi, I have been looking for a price for the Breitling chrono m2000 (in pounds sterling),but to no avail, would you happen to know what the asking price is for this watch?, your help would be much appreciated

The Breitling Source Says:
April 10th, 2012 at 1:33 pm

Don't have a price yet. Have you tried contacting your dealer?
Leave a Reply