Sat 20 Aug 2011
Well, before I was able to get a Breitling Caliber 01-based watch, my buddy picked one up. He snagged a Chronomat 01 with the Roman Numeral Dial… awesome. I love this combo, though I have to admit that the watch has a level of "bling" to it that previous Chronomats did not have. Somehow the new polished bezel really takes the shiny level up.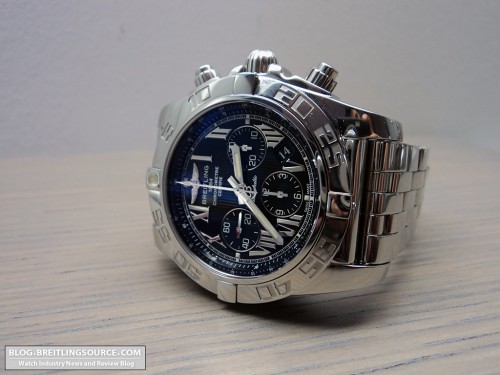 I love the way the roman numeral dial looks on this model, with the numerals staying upright all the around, as opposed to the way they looked on the older Crosswind. While I still like the Crosswind, I think the Chronomat 01 has a more modern looking dial. I know that there are a lot of old school Breitling fans out there that do not like this new direction that Breitling is taking. While I don't necessarily approve of all of their recent releases, this is one that has grown on me.
The dial features some of those square elements with faint striping that a lot of the people seem to dislike, but don't bother me too much.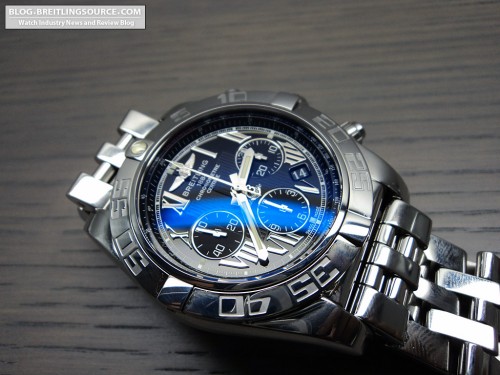 There she is head on.. as you can see, same double AR coating as always. The 43.5mm diameter, while slightly smaller by .2mm, actually seems to wear a bit larger to me. I am not sure why, but it might have to do with the bezel design and shape.
The new 01 movement is an absolute piece of genius and features just about everything that I could hope for in a Chronograph Movement:
– Amazing power reserve at 70 Hours
– Column Wheel Chronograph
– Auto-Centering Reset Hammers
– Customizable Index Regulator System
– Instantaneous Date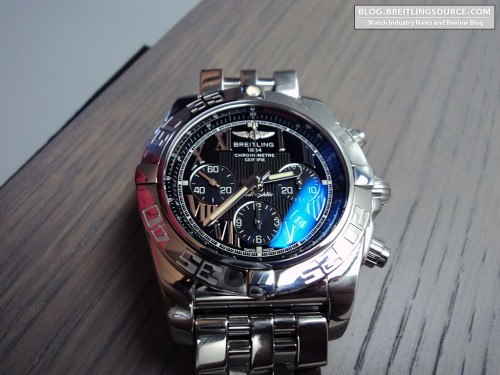 With the 01, Breitling moved back to fully polished bezels. The previous Chronomat and Evo models had brushed bezels, but prior to that, older Chronomats had fully polished bezels as well. As we all know, trends are circular and the Chronomat is no exception. The rider tabs are much more subdued than previous, but still feature the same quality screwed-in construction, as does the bezel.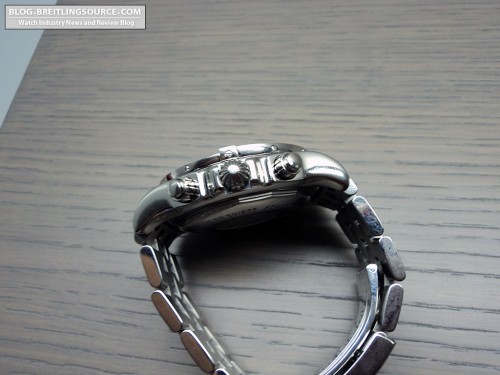 Breitling also changed the Chronomat 01 Bracelet to have swing lugs rather than fixed lugs. This is common with their larger watches such as the Breitling for Bentley Motors, but new for the Chronomats.
Overall a Killer watch in my opinion. Perhaps not a natural progression for Breitling and while the style may seem a bit forced, I feel that the watch is settling into the majority of its new design statements. I really dig the Breitling 01, and would probably have myself one of them if I weren't getting so distracted by the multitude of other watches out there catching my fancy!
Leave a Reply