Fri 5 Aug 2011
Many of you guys know that I am a sucker for a good PAM Strap, and now that I've got a Bell & Ross, I'm a sucker for a good B&R strap too! The thing is, more so than any other watches out there, Panerai and Bell & Ross are characterized by their straps. Without a good strap, the watch just doesn't look as good as it should.
One of my recent acquisitions is a French Ammo Canvas strap by Micah of Vintagerstraps. I reviewed this recently on Paneraisource, and it is certainly worth a look if you are interested in something different: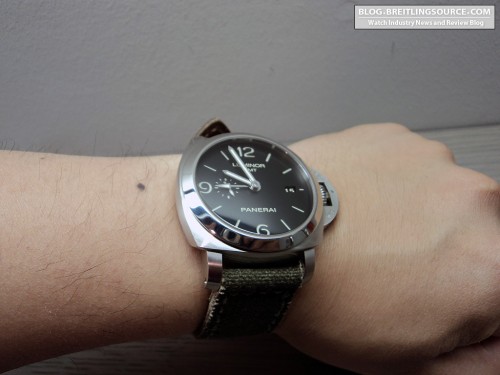 The French Ammo Pouch Canvas is mounted on a medium-soft leather backing and looks amazing. I have to say this is one of the most fun straps I've worn in a while. Micah is a true artist.
Below is a strap by one of the most creative minds in modern strapmaking today: Shane Delaurian. This one is one of his tamer models, the Easy Rider. The tale is folded over on this model, which gives the strap a subtle uniqueness to it. Something about old school leatherworking gives these straps tons of personality and makes them a joy to wear.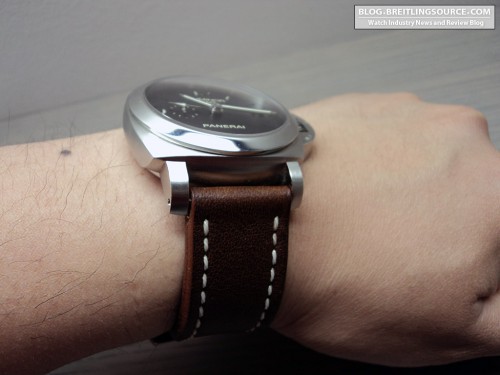 Shane's straps are always hand-signed on the back or the side of the strap!
This last one here is one from the famous ABP-Paris, which is considered the finest aftermarket strapmaker on the planet. They do custom EVERYTHING, and make Aftermarket OEM replacements for nearly every single watch available. A great choice if you're having trouble finding a strap for a watch with odd lugs. ABP straps will cost you, however – a typicaly strap costs around $350-500.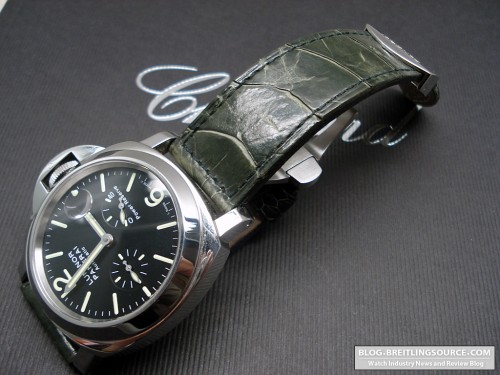 Mounted happily on a Panerai PAM90. I love my Panerai Straps!!
2 Responses to "Panerai Strap Love"
Kyle S Says:
August 8th, 2011 at 7:37 am

love that canvas strap!

Allen Kipling Says:
September 27th, 2013 at 4:46 am

The watch goes well with French Ammo Pouch Canvas and on a personal note ABP straps well does not suit the dial of this watch . Other than that the dial is awsome.
Leave a Reply