Sat 26 Feb 2011
GoS Watches releases another new model and is presented in a "Svep" woodwork presentation case hand crafted by Sture Nyberg, a Scandinvian woodcraft artisan. The Stockholm features mother of pearl dial with a cool Damascus Chapter ring, hands and crown. The watch also features a Hand Wound Alpina 592R movement. The piece will be produced in a limited production of 5 pieces.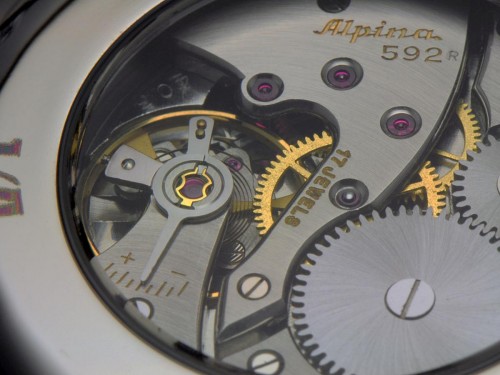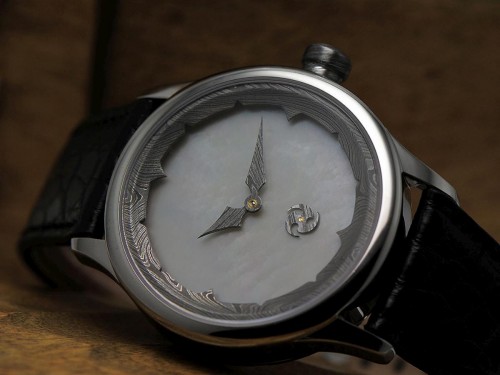 Specs:
Case: 42mmx10mm
Lug width: 22mm
Glass: Flat sapphire glass
Movement: Swiss manual movement Alpina 592R
Dial: Mother of pearl for 4pcs 1/4-4/4, One piece 1/1 has a dial in blue Lapis Lazuli with small gold pyrites
Hands: Spear shape in hand forged Damascus steel
Index ring, rehaut: Fileworked and polished in hand forged Damascus steel
Crown: 8mm in finegrained Damascus stainless steel
Case finishing: All highgloss polished with Gustafsson & Sjögren logo on case side.
Strap: Handcrafted in Louisiana Alligator.
Presentation box: Individually crafted box in svepask technique.
"Stockholm – a new GoS model
The partnership between the bladesmith Johan Gustafsson and watchmaker Patrik Sjögren aims to provide truly unique watches with inspiration from the cold north of Scandinavia. GoS proudly presents the new model Stockholm, which has been designed in corporation with the owners of the exclusive watch store Fredmans Ur, the GoS retailer in Stockholm. The production of Stockholm is limited to five watches of which four pieces with a mother of pearl dial and a single piece with a dial in blue Lapis Lazuli. The dials in natural materials highlight the rich details within the handforged Damascus steel. Johan Gustafsson has achieved a very fine grained steel, which pattern is made visible through careful and time consuming hand finishing techniques.
The movement in the Stockholm model is the hand wound Alpina 592R from the 1950s, a NOS movement that has been thoroughly serviced and adjusted before the assembly in the GoS workshop. The Alpina movement beautifully display the characteristics and overall quality of watch movements from that era and has been kept in the original finishing. The deep beveling and the bridge shapes perfectly match the designs and shapes of the Damascus steel parts.
The Stockholm watch is the first model to be delivered in the new GoS presentation box. The boxes are individually crafted by Sture Nyberg, a local woodcraft artisan who is well known for his work which he regularly exhibit. The box is crafted in an ancient technique called "svep" in Swedish and is so specific to the Baltic region that it does not have an English name. The material is thin birch wood that is moisturized and bent over a round template. Birch root is then used to lock the shape with a seam."
Leave a Reply