Mon 3 Jan 2011
My first watch of the new year is the popular Sinn 857 UTC watch. I've been coveting a 757 or 857 for a little while now, and finally found one available when I happened to have money. I still haven't received it yet, but I should be picking it up today.
I've always liked Sinn watches, and generally have found them to be a decent value for the amount of tech you get. Sinn has pioneered a lot of unique technologies in their watches including Copper Sulphate Capsules, Tegimented Steel, Argon Gas-filled Gases, Hydro-Filled Cases and DIAPAL Nanontechnology.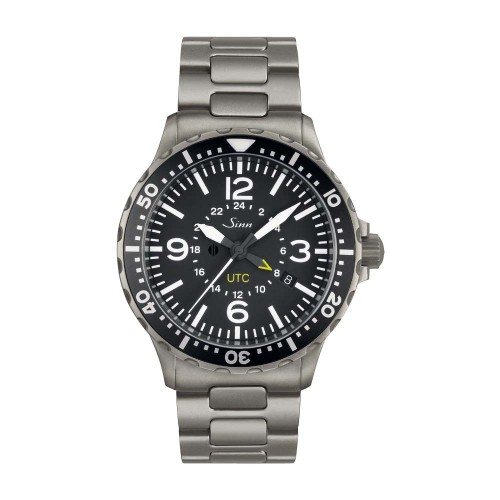 There it is, a stock photo of my Sinn 857. I think its one of the nicest Sinn's on the market right now, with a nice 43mm diameter and 12.2mm thickness. The beautiful fine sand blasted and tegimented steel case suits the watch perfectly and since its tegimented, the bead blasted finish won't scratch as easily which is important since bead blasted finishes are harder to have refinished.
Some of the Sinn Tech that's included in this model: Tegimented Case and Copper Sulphate Capsule. For those that are familiar with these technologies, the tegimented steel case is a specially treated steel case that has been hardered on the outer layer via a special process to prevent scratching. The Copper Sulphate Capsule is a moisture-absorbing capsule that is placed inside the case and visible from the side that absorbs moisture from inside the watch case. The Capsule turns a deeper blue over time as it absorbs moisture from within the case. Both of these are unique to Sinn and are fantastic value-added features of their watches.
I look forward to picking up the watch this afternoon!
2 Responses to "First Watch of the New Year: Sinn 857 UTC"
Kyle S. Says:
January 3rd, 2011 at 3:59 pm

Awesome watch, congrats. I hope to own one of them one day as well — they are great looking watches with great features, as you noted.

Happy New Year!

The Breitling Watch Blog » There she is: Sinn 857 Says:
January 3rd, 2011 at 8:35 pm

[…] Usually I don't make little posts like this, but I figured I should show a Wrist Shot of the Sinn 857 I mentioned in my Previous Post. […]
Leave a Reply