Sun 28 Nov 2010
"You actually own a Ril Watch. You do not need to wait for the next generation."
That's their slogan. Obviously this is a reverse take on Patek's slogan which is, "You never actually own a Patek Philippe. You merely look after it for the next generation." Now, while they use a spin-off of Patek's slogan, their watches have absolutely no relationship in look or pedigree to Patek Philippe. They're more of a Rolex Sub "homage" to be diplomatic.. others would call it a copy.
Ril Concept states that their watches are designed in London and use precision automatic Japanese movements, selling for $999US. They feature a 38mm case, sort of like a mini-submariner. To me they look more like they were designed in Switzerland (by Rolex) and then copied by someone in London. Also, the 30m water resistance doesn't really seem like its up to the task of being a scuba watch, which is what it's marketed as.
Features:
-Scratchproof sapphire glass
-Stainless Steel
-Rotating Scuba bezel
-High precision Japanese automatic movement 21 jewels
-48 hours power reserve
-Screwed winding crown
-Water resistant (30m)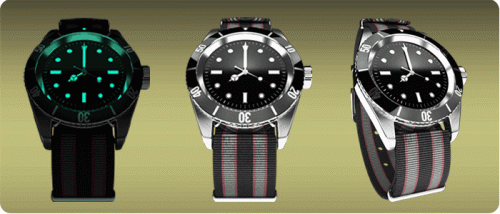 Take a look and decide for yourself!
http://rilconcept.com/
2 Responses to "Ril Concept Watches – The Anti-Patek"
corndg Says:
December 1st, 2010 at 12:39 am

I think a chinese sterile diver with miyota movement, sapphire and 200m rating can be had for about $100 bucks? When I read the website I kept hearing catch phrases from Zoolander…..

RIL is ….. cold steel

The Breitling Source Says:
December 1st, 2010 at 9:54 am

The website is quite entertaining really. Any who are all those random people who have photos on the site listed as owners. I never seen a single one of them before.
Leave a Reply