Sun 14 Nov 2010
While I like Tag Heuer's designs, I somehow get bored with their watches very quickly, and they don't get much wrist time beyond the first week I have them. I'll see a Tag and want it, then once I get it the novelty seems to wear off. One of the best Tag's I've owned is this Tag Heuer Carrera Chronograph. It has a great size and design, and is sporty and a bit dressy at the same time.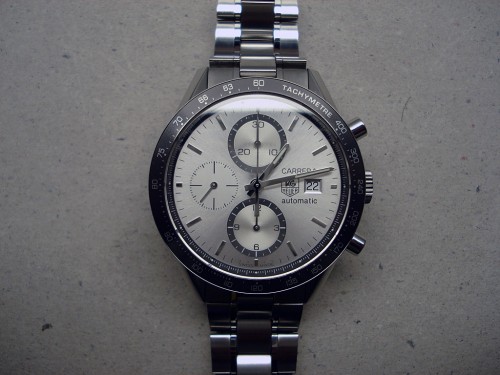 This dial is a silver color, and the bezel is the grey. I think this is one of the nicer color configurations available for the Carrera Chrono, but the previous owner (I purchased it used) sold it because he had trouble with the color matching. Oddly, it was the dial I wanted the most! Very different from anything I had owned, but still an easy accessible color palette. I found the watch really easy to wear and match up with different styles of clothing.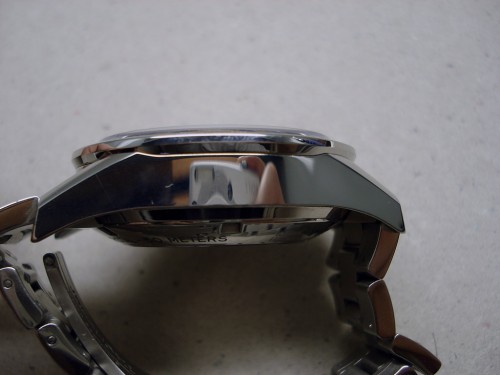 As you can see, the case is on the thicker side given the modest 41mm case diameter. This is the Tachymeter version that has the smaller 41mm case. It is also available in a Day-Date variation that uses the same Valjoux 7750 based Caliber 16 but without the day-of-the-week wheel removed. The Day-Date version measures a larger 43mm across. I personally like the cleaner dial and look of this Tachymetre version myself.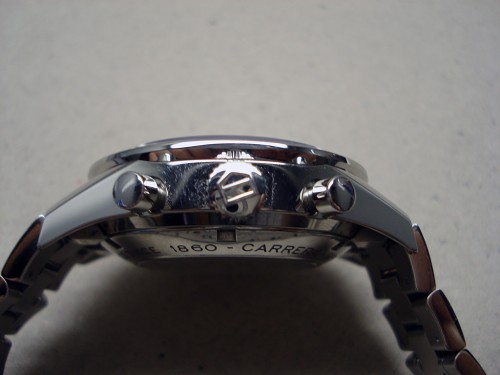 Pusher and crown layout is identical to other Valjoux 7750-based movements with the chrono start/stop at 2 o'clock and the chrono reset at 4 o'clock. Crown is of the signed, screw-down variety and located at the usualy 3 o'clock position. One small visual complaint I have is that the crown was a bit small and would have liked to see it stick out a bit more to compliment the pushers.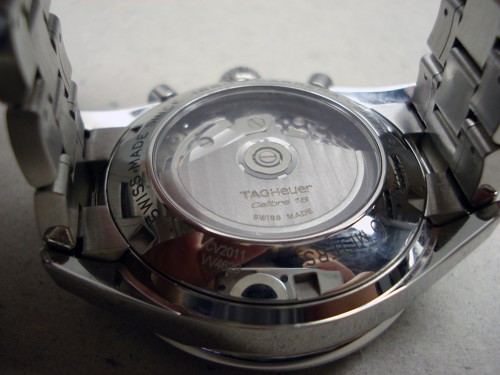 Exhibition back shows off the nicely decorated Caliber 16 movement, which I have already mentioned is a based Valjoux 7750. I'm not sure what has been done to earn it a Caliber 16 designation, but it does have gold-etched lettering and cote de geneve striping on the rotor and bridge. It does not have a Chronometre COSC certification, however.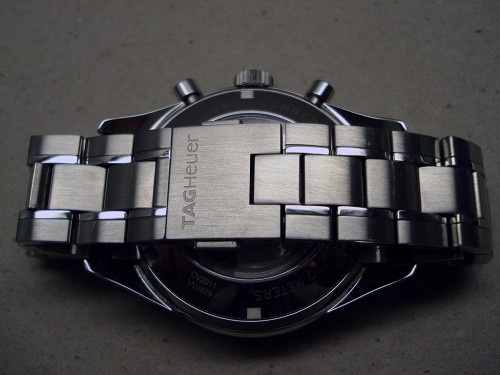 Finally we have the bracelet shot. The Carrera bracelets are among Tag's best designed bracelets, and feature individually machined 5-piece links, with the polished thinner links actually separate pieces fromt he larger brushed ones. Very nice detail. Clasp is a semi-hidden machined and signed piece with dual push-button release and a machined hinge, a nice upgrade from the Formula 1 and base Aquaracer fliplock bracelets.
Overall a very nice Tag Heuer piece. With most of my friends that have no interest in watches, they are always looking for a Tag Heuer (Or a Rolex, but assume Rolex costs too much). So Tag's are always of interest to them, since they always want to buy one. As long as the price is right, and the look is right, there's always someone in the market for a Tag.
2 Responses to "Tag Heuer Carrera Chronograph Automatic"
James E. Says:
March 23rd, 2011 at 9:43 pm

I've been going back and forth between getting this Carrera and the day date. Do you happen to have the lug-to-lug measurement? I have (very) tiny wrists and am always concerned by that length.

Thanks!

The Breitling Source Says:
March 24th, 2011 at 9:40 am

Sorry I dont have the lug to lug measuresments for this watch… maybe you can google for them?
Leave a Reply