Thu 9 Sep 2010
Wow – A turquoise Doxa 1200T. I can't decide quite yet whether I like this or not. Limited edition of 50 pieces!
Satin brushed sold stainless steel (316L). 44.60 mm in total length, 42.70 mm not including the crown, 44.50 mm including the crown. Water resistant to 1200 Meters with Helium Release Valve. Sapphire Crystal.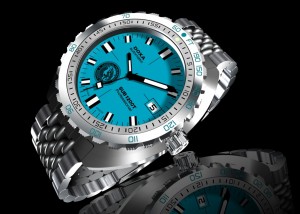 One Response to "Doxa SUB 1200T NUMA Edition – Turqoise Dial!"
Driver8 Says:
September 10th, 2010 at 12:45 pm

I've been following the progress of the design of this Doxa on another website and I must say I really like the look of it. It needs to have something other than "Professional" on the dial as that should be reserved for the orange dial in my opinion.

Plus why oh why did they make it based on the dinky little 1200T!?!! Doxa's wear considerably smaller than their nominal dimensions suggest so the 1200T is really tiny in person. Oh well never mind.
Leave a Reply