Thu 2 Sep 2010
Is it wrong for me to secretly covet another U-Boat? I've always kind of liked the idea of a black watch, but PVD is a definate no-no for me, since it can come off easily and can't be fixed. Ceramic, while its a harder to scratch material, could totaly shatter or fracture if knocked hard enough, like the IWC Ceramic Pilot article that many have read.
I've owned a U-Boat Flightdeck Chrono in the past, but this ceramic dial with the cut-out arabics and markers along with the Ceramic case is really calling to me… oversized 50mm case, with little attention to movement detail are big minuses against the watch, but I can't deny that the combination is enticing.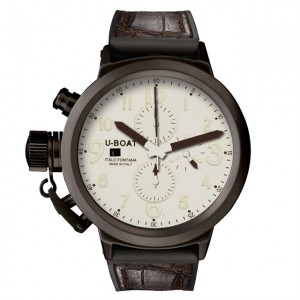 That's the one that I am coveting, but with recent purchases of watches, I can't justify buying a U-boat of this price range.
At first I thought this was only a ceramic bezel watch, but further reading indicates that it is fully ceramic case, and the ceramic bezel models have glossy bezels. U-Boat's site is sufficiently vague in information and more or less useless for this kind of information.
Leave a Reply