Tue 6 Jul 2010
The man who coached his team to a 4-0 Loss to Germany wears his Double Hublot watches. While he's still a bit pudgy, its good he's got rid of some of that weight he put on a few years back!
Still, he is a legend in the world of Football.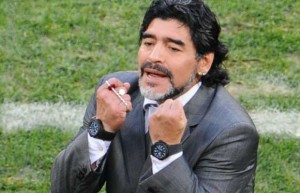 Not sure about the double Hublot's though. Isn't it a bit much?
One Response to "Diego Maradona's Double Hublot Watches"
What Can We Learn from Hublot's Bernie Ecclestone Advert? | bda - Buckingham Design Associates Says:
January 6th, 2011 at 8:48 am

[…] thrives on being the watch seen on the wrists of celebrities and sports stars (two of them in Maradona's case). Having F1's President appear in your ads at their request certainly boosts Hublot's link with […]
Leave a Reply