Fri 20 Nov 2009
I received a very cool email today, asking me for some advice on what watch to buy.. here is the email from Scott:
Let me start by saying that I love your website. I am sure that you are a very busy man and get TONS of email questions. I get on your website and blog it at least once every two weeks. I am a Breitling fan and I have been fortunate enough to have owned two of them.
My first luxury watch was a two-tone Omega Seamaster that I purchased in 1995. I sold that to my brother-in-law and got a two-tone Breitling Chronomat in 1996. That Chronomat was loosing about 5-6 minutes per month, so I took it in for service to an authorized dealer in Philadelphia, PA. It turns out that it was stolen in the mail, so I got store credit towards a new watch in the store.
I wound up getting an all stainless Crosswind in 1996. It had a considerably larger footprint and I liked it a lot better than my Chronomat. I was involved in an accident in 1997 and ended up selling it back to the jeweler that I purchased it from in Philly to help cover my medical expenses. Ever since that day I have anticipated getting another high-end luxury watch. I bought a Tag Heuer 2000 in 1998 and it is still on my wrist today. I am in a position that I am very close to getting a high-end watch towards the end of next year.
I have narrowed my new watch down to two brands/models. One is the Rolex Submariner in stainless (the 16610), the other is the Chronomat Evolution in two-tone rose gold with the roman numeral markers and the 18 kt. bezel (blue dial). Comparing the two, the Breitling looks a lot better and is bigger I like the additional functionality of the chronometer function (that I would have to get a Rolex Daytona to have). Another plus is that it is two-tone versus all stainless steel. My two questions and concerns in terms of deciding between the two are this:
There is an authorized Rolex dealer / jeweler only 20 miles from my home in small-town Pennsylvania versus the closest authorized Breitling dealer is in Philly, some 2.5 hours away from my home. The other primary decision maker for me is the Breitling's gold-plated pushers and crown. Now, I never had any problems on my original Chronomat with the gold-plating wearing off and looking bad, but I only owned it for a very short period of time. I did not have it long enough for it to wear off and I am not concerned about the rolled-gold on the pilot bracelet. I am however, very concerned about the gold plating wearing off in the next 5-7 years through wearing it day in and day out and not ever taking it off of my wrist.
I was wondering what your take on these two concerns would be, particularly your take on the gold-plated hardware on the Breitling. I am not one to take my watch off ever. The only time I take it off is to clean it or to service it. I sleep with my watch on, shower with my watch on, swim, snorkel, perform chores–everything I do, my watch never leaves my wrist, not even when I am deep into the Pennsylvania woods "roughing it" camping.
Believe it or not, for a cheap ($960 brand new) watch, my Tag Heuer has been through a lot of abuse and I have never had any major service on it–though it has a lot of battle scars and the rotating bezel has not rotated in a lot of years now. Even my luminous markers still vaguely light up in the dark.
So, my important question to you remains: If you had the choice of the two watches and an allowance of about $5500 to spend to own one for the next 20 years, which one would you choose? More importantly, why would you choose one over the other?
I surely appreciate your expertise and options regarding this matter and I love your website and blog! Please keep up the work, it is greatly appreciated!!!!
Dear Scott,
Thanks for your email, and your compliments on my site. They are appreciated.
Tag Heuer makes a very reliable watch, and I'm glad that you are happy with yours. I've owned them in the past and they have served me well.
The question of choosing between the Rolex Submariner in stainless steel and the two-tone Chronomat is a tough one. I would recommend perhaps going for the 18K Bezel version as opposed to the Two-Tone version if you can spend the extra money, as its a nicer accent in my opinion, also the Bezel is solid 18K Gold.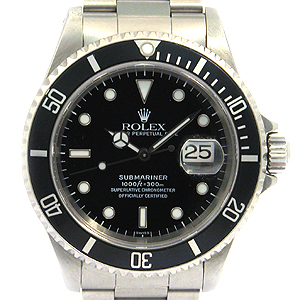 The first suggestion I would make is to try both the watches on and see which one calls to you and feels right. The Rolex is a classic design, and has not been changed for 50 years, more or less. The Chronomat's general design is about half as old, but still relatively recognizable, if not iconic. The Breitling does come with the Chronograph feature, and a larger diameter and what I think is a superior bracelet. The Rolex uses superior steel, and has a basic in-house movement.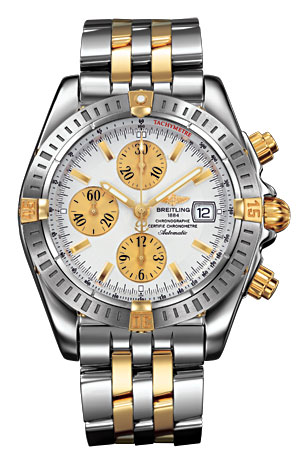 Both are excellent watches, and the choice has to be a personal one. For me, the Rolex would not do it for me, as I get bored of the style a bit. It is an excellently made watch, with great attention to detail, but it is too simple for me if I were to only have one watch. This is a personal thing.
Both watches are reliable and robust. Breitling fans will complain that the Rolex is boring, uninspired and small, and that too many other watches look like. Rolex fans will complain that Breitlings are loud and gaudy and belong on the wrist of rappers and movie stars and those that want to show off their watches and seek attention.
Regards,
Breitling Source
2 Responses to "Email Response: Decisions… Decisions"
Miles Says:
December 17th, 2009 at 1:47 am

I agree with the author, both are undoubtably excellent watches. Personally, I appreciate the look of the Rolex Submariner especially because of it's classic iconic look!

mac smithe Says:
June 29th, 2010 at 11:18 pm

I too agree with the author, and I am a huge fan of his blog. I do agree with the statement about breitling being bling and gaudy, but this particular model your looking at is anything but. its very subtle and elegant, and classy. I personally own one so i can comment, go with the rolex. the sub is such an icon. Sure there are a ton of watches out there that look like it, but none can compare. I too had a tag for many years, and still have a few of them they are great watches. forget the gold, forget the chrono. simpler is better, and the fact that you wear it all the time. get the rolex. the rolex has been around for over 50years and will be around for another 50.
Leave a Reply