Well, full sized is a relative term. Back in the day, 36mm was full sized. Now, 42mm is the minimum that many would consider full sized. For me, 42mm is perfect size.
Enter the new Chronoswiss Chronoscope CM – a Regulator layout, with Mono-pusher Chronograph movement, based on the good ol Enicar that they love so much over there. Caliber C125 movement, and case measures a healthy 42.5mm in diameter! Finally a classic looking Chronoswiss with a big case. The timemaster was big enough, but the dial was not to my liking.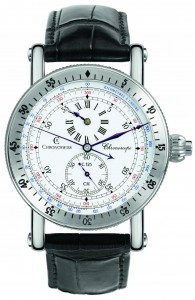 The watch is available in both Rose Gold and Stainless steel variations, and like most Chronoswiss watches has a Sapphire display back. At any rate, the movement is a unique modification by Chronoswiss, and the size is great. Combined with the unique and quintessentially Chronoswiss dial, this watch will be on my short-list.